Bleacher Report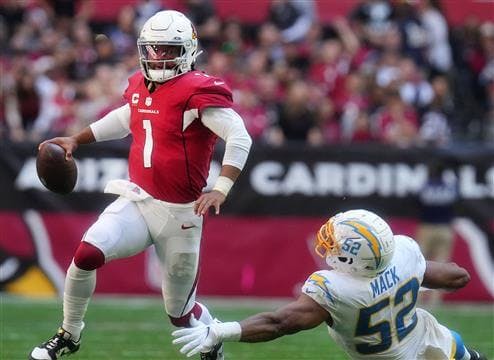 The situations involving Green Bay Packers quarterback Aaron Rodgers and Baltimore Ravens quarterback Lamar Jackson have dominated the 2023 NFL offseason news mill.
By extension, that chatter has enveloped Green Bay's Rodgers successor, Jordan Love, as well as the Rodgers-chasing New York Jets and their in-house option, Zach Wilson.
But what about the rest of the veteran quarterback landscape?
There are quite a few NFL teams and/or well-known quarterbacks who likely have to make major decisions within the next year (if not sooner).
Let's break it down.
Could the Cardinals abandon the Kyler Murray era?
Last July, the Arizona Cardinals handed quarterback Kyler Murray a five-year, $230.5 million contract extension. This offseason, they included him in the process of hiring a new head coach.
With that in mind, they're unlikely to cut bait on the 25-year-old between now and the start of new head coach Jonathan Gannon's inaugural season. However, Murray struggled last season before suffering a torn ACL, and his work ethic has come under fire (although some teammates have pushed back on that).
Still, the Cardinals could save $3 million against the 2023 cap by trading Murray after June 1, per Spotrac. His ongoing recovery from the ACL tear might throw a wrench into that, but the fact even a 2024 trade would create significant cap savings for the Cardinals ($38.9 million) could cause them to consider taking C.J. Stroud, Bryce Young or Anthony Richardson with the No. 3 overall pick.
Arizona could take one of those guys now and then trade Murray for a slew of 2024 draft capital this summer or fall. Although the Cardinals aren't expected to be a serious contender in 2023, that would make them one of the NFL's most intriguing squads in 2024.
Are the Niners Open to Moving Trey Lance?
Kyler Murray isn't the only recent top-three pick in the NFC West who has struggled with injuries and could be a prime trade candidate.
Trey Lance has had even less time to prove himself to the San Francisco 49ers than Murray has in Arizona. But surprise rookie sensation Brock Purdy could make Lance expendable nevertheless.
Niners general manager John Lynch has already stated that Purdy has "earned the right" to start once he recovers from his torn UCL. Whenever he gets the all-clear, that could pave the way for a Lance deal.
The Niners should think twice before trading Lance, though. They basically spent three first-round picks to move up to trade him, yet they're ready to give up on him only four starts into his NFL career? All because Mr. Irrelevant shined over the course of an eight-start stretch in which opponents had practically no tape on him?
Lance should be appealing to trade suitors because he's still on his rookie contract and has plenty of upside. That's exactly why the 49ers should hedge in case Purdy's rookie campaign was a fluke.