Bleacher Report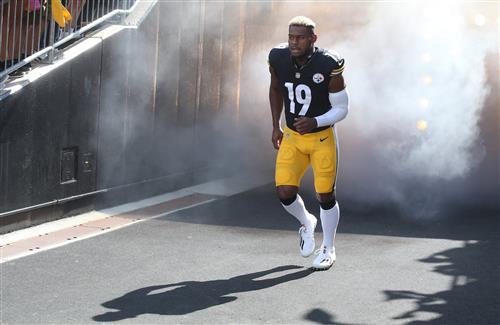 It happens every spring, and it'll happen this March as well.
Many NFL free agents are paid far more than they should be, mainly because the market is on their side. Desperate suitors tend to look past concerns related to consistency, durability, age, career trajectory or all of the above.
The following half-dozen players are in line to get overpaid next spring based on outlier years or market dynamics at their respective positions.
RB James Conner
James Conner was an afterthought when he signed a one-year, $1.8 million deal with the Arizona Cardinals in April. But the former Pittsburgh Steelers running back has positioned himself to earn far more than that next offseason.
Conner has already scored a league-high 12 touchdowns even though he's started only one game and has never been considered the No. 1 option in the Arizona backfield. Chase Edmonds' ankle injury has opened the door for Conner to take over as the every-down back for the next few weeks, but he's had a red-zone role even with Edmonds healthy.
That touchdown total alone should get Conner enough attention to land a solid long-term deal in free agency, at least in running back terms. But that might be a mistake.
Touchdown totals can be deceiving and circumstance-based. He had 12 with the Steelers in 2018, but he combined for only 10 over the next two years. He has also fumbled twice on 138 touches and is averaging a career-low 3.9 yards per carry.
The 26-year-old has only four 15-plus-yard runs this season. He doesn't have the playmaking ability to excel as a top back, but don't be surprised if he gets paid like one regardless.
WR JuJu Smith-Schuster
JuJu Smith-Schuster signed a one-year, $8 million deal with the Pittsburgh Steelers in lieu of "larger offers from divisional rivals and Super Bowl contenders to accommodate Pittsburgh's tough cap situation" last offseason, per NFL Network's Taylor Bisciotti.
At the time, he joked that you'd need a wrecking ball to get him out of Pittsburgh, but it's hard to imagine he'll keep offering massive hometown discounts. The soon-to-be 25-year-old eventually needs to cash in on his early-career success.
But any team that signs him to a big-money, long-term deal might regret it.
Not only is Smith-Schuster recovering from a significant shoulder injury, but it seems as though he peaked early in his career. He put up 1,426 yards and seven touchdowns as a sophomore in 2018, but he hasn't been close to as effective since then due to injuries and a lack of overall consistency.
Some team will be desperate enough to look past all of his recent issues, including those related to him being a potential distraction, and focus on his early-career numbers. But that might wind up being a mistake.