Fadeaway World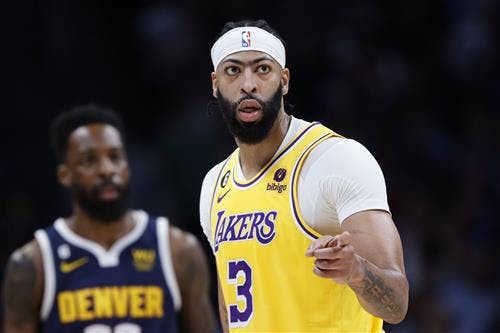 On Tuesday evening, the San Antonio Spurs were awarded the number one overall pick in the 2023 NBA Draft. With this pick, the Spurs landed the rights to the most highly-anticipated draft prospect since LeBron James over two decades ago, Victor Wembanyama. The hype around Wembanyama's arrival in the NBA has turned San Antonio and the media on their heads as the 7-footer possesses all the skills to be a legitimate superstar in the NBA, and regardless of concerns about his slim frame and injuries, many teams in the league would do anything they can to land the top draft prospect. Almost anything that is.
As loud and exciting as the anticipation of Wembanyama's game is to the NBA, there are still a number of players that would be untouchable in the acquisition of his services. Recently, Draymond Green alluded to the fact that the Lakers would never trade LeBron James for Wembanyama, which is fairly obvious. Now, players like Ja Morant due to his legal issues, Zion Williamson with his injury woes, and Paul George with his inconsistencies would all be players teams would be willing to part with for the young and still unproven Wembanyama. That being said, we figure there are only 11 players today that teams would label as untouchable in any deal, let alone for a player who hasn't stepped foot in the NBA yet. We dive into those players and why their teams will hold onto them for dear life below.
These are the only NBA players that teams would not trade for Victor Wembanyama.
11. Anthony Edwards
Kicking off our list of players least likely to be traded for Victor Wembanyama is 21-year-old phenom Anthony Edwards. Now, many might surmise that Wembanyama will be better than Edwards at some point, and that's ok, but for now, there is just no way. Edwards is one of the best players in the NBA under 23 years of age and has proven over the last three seasons that he has everything it takes to become a superstar in the very near future.
Since his rookie season, Edwards has averaged 23.0 PPG, 5.3 RPG, 4.1 APG, and 1.5 SPG on 45.1% shooting from the floor. He is also shooting 36.3% from three and became an All-Star for the first time in 2022-23. What has been even more impressive is Edwards' performance in his first two playoff appearances. In 2022, he averaged 25.2 PPG on 45.5% shooting, and in 2023, he averaged 31.6 PPG on 48.2% shooting. As great of a prospect as Wembanyama is, I would rather keep the young man who has proven the lights never get too bright for him.
10. Devin Booker
Speaking of young players with a habit of performing well in the playoffs, Devin Booker comes in at number 10 on our list. The 2022-23 season was Booker's eighth in the NBA, and he has already been a three-time All-Star and an All-NBA Team selection in 2022. Booker has averaged 25.5 PPG or more for the last five seasons consecutively and has not averaged below 22.0 PPG since his rookie year in 2015-16.
What has been incredible to watch, and what makes him unexpendable to the Suns at this point, is the way he has carried himself in the NBA playoffs. Yes, he and the Suns have failed miserably in two separate Game 7's over the last two seasons. That does not, however, erase what he did in the totality of his playoff career. In his first playoff appearance in 2021, he averaged 27.3 PPG while leading the Suns to the NBA Finals. In 2022-23, Booker led all scorers with 33.7 PPG on 58.5% shooting. That sort of efficiency come playoff time is something that no team can or would even try to replace. As one of the game's top young players and one of the best shooting guards in the game, Booker's spot in Phoenix is safe even from a deal for Wembanyama.
9. Anthony Davis
For the last two and a half seasons, Anthony Davis has been the subject of ridicule and criticism for his long list of injuries that have kept him off the court. When he has been healthy, Davis has done nothing but prove why he has always been considered a top 10 player in the game at a minimum. The case for Davis not being used as a trade piece for Wembanyama has already gotten stronger with every passing game during the NBA playoffs.
During these NBA playoffs in which the Lakers have advanced to the Western Conference Finals, Davis has averaged 22.6 PPG, 13.8 RPG, and 3.2 BPG. His blocks and rebounds lead all players during the postseason. He has shown why we recently named him the best defender in the NBA and displayed his all-around two-way talent to silence his doubters and critics. As expendable as he was even just a few short months ago, Davis is just too valuable to the Lakers to trade him for an unproven player such as Wembanyama.