Fadeaway World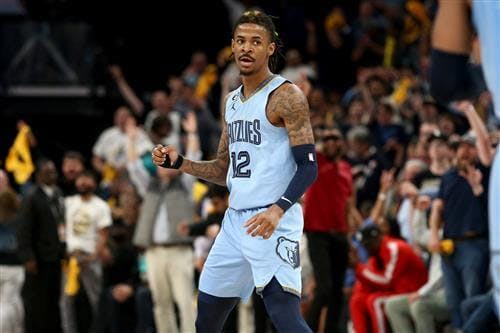 Breaking news, ladies and gentleman, Ja Morant is in the media for another silly incident involving a firearm on social media. For some reason, one of the most talented point guards in NBA history is deciding to act foolish and not take care of his brand after holding a gun and playing rambunctious music during a live social media session. The Memphis Grizzlies have immediately responded, suspending their star player.
This comes after Ja Morant got suspended by the NBA and the Grizzlies franchise, with the point guard coming out in an interview with Jalen Rose to apologize. It is obvious that Morant did not mean his apology, and the point guard's future is in jeopardy. Everyone deserves a second chance, but what about a third chance? Regardless, the Memphis Grizzlies have one of the most interesting summers coming up after the franchise decided to not bring back Dillon Brooks. Obviously, there could be roster changes coming and one of those could involve Ja Morant.
It is reasonable that the Grizzlies end up trading Morant to get themselves out of the spotlight and rebuild around talented big man Jaren Jackson Jr. and some new pieces. Memphis finished second in the Western Conference with a 51-31 record but lost to the 7th-seeded Los Angeles Lakers in the first round of the playoffs which is a big wakeup call. Meanwhile, speaking of the Lakers, this team is currently headed to the Western Conference Finals to take on the Denver Nuggets in a showdown for the ages.
The Lakers could actually be the team to take on Ja Morant and form one of the greatest Big Threes in NBA history. In one of the most surprising moves of the summer, here is the trade package that could see two-time All-Star Morant join LeBron James and Anthony Davis in Los Angeles:
Trade Details
Los Angeles Lakers Recieve: Ja Morant
Memphis Grizzlies Receive: D'Angelo Russell, Austin Reaves, Rui Hachimura, 2029 First-Round Pick