CBS Sports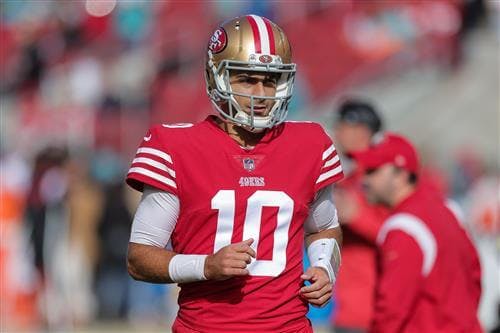 The QB carousel has already started moving in the NFL even with the legal tampering period and the official start of free agency still a few days away. Derek Carr inked a deal with the Saints, Geno Smith and Daniel Jones were retained by their respective clubs, and the league is waiting on pins and needles to see if the Jets will pull off a blockbuster that lands them Aaron Rodgers. Even with all of these latest happenings, there are still several shoes still to drop, including the status of Jimmy Garoppolo.
The veteran quarterback is slated to hit unrestricted free agency and it appears he'll have a solid market for himself. The Panthers, Texans and Raiders are all expected to show interest in signing him once the legal tampering period opens up on March 13, according to NFL Media.
What's fascinating is that each one of these teams that are reportedly interested in Garoppolo all find themselves inside the top 10 of the NFL Draft. The Texans pick second overall (and 12th), Las Vegas is on the clock at No. 7, and the Panthers pick ninth, meaning they all could conceivably draft one of the top prospects at the position.