Sportsnaut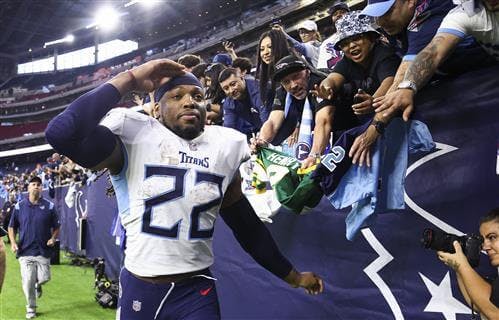 Tennessee Titans star Derrick Henry is a two-time rushing champion. The former Heisman winner finished second in the NFL in rushing this past season with 1,538 yards.
On the surface, it would seem that Henry fits what the Titans are looking to build under head coach Mike Vrabel and new general manager Ran Carthon.
That's just on the surface. Tennessee saved well north of $40 million against the cap by releasing multiple veterans recently, including three-time Pro Bowler Taylor Lewan. Tennessee is coming off a 2022 season in which the team lost its final seven games.
Veteran quarterback Ryan Tannehill is not the answer. A mid-round pick last year, Malik Willis has not proven that he can be the guy under center.
Fresh off firing longtime general manager Jon Robinson and replacing him with Carthon, it's rather clear that the Titans are headed in a different direction. They are nowhere near top-end playoff contenders in the AFC and could be headed for a rebuild.
Does this mean Tennessee might look to trade King Henry in the offseason? It makes some sense with the 29-year-old back entering the final year of his contract. The Titans would also save a cool $6.2 million by trading the Pro Bowler. It wouldn't be a shock if he's moved to help expedite a rebuild in Nashville. If so, here's a look at four ideal landing spots.
Derrick Henry heads to the Baltimore Ravens
It's safe to assume that Baltimore will find a way to retain former NFL MVP Lamar Jackson. Whether the Ravens hold on to the quarterback via the exclusive franchise tag or sign him long-term, it makes no sense to start anew under center.
If this is indeed the case, finding Jackson a consistent running game should be in the cards. The likes of J.K. Dobbins and Gus Edwards just have not been able to stay healthy in Baltimore. Outside of issues at wide receiver, this has been a major problem for the Ravens.
After hiring Todd Monken as their offensive coordinator, the Ravens seem to be a great fit for King Henry. Back in 2019 as the Browns' offensive coordinator, he oversaw a breakout performance from then-sophomore running back Nick Chubb. These two are cut of the same cloth, making a pairing between Henry and Monken a potential dynamo.
Carolina Panthers land top running back for Frank Reich
Carolina's decision to hire Thomas Brown as its new offensive coordinator under Frank Reich tells us a story. The team is committed to a running game moving forward. Given Brown's track record as an assistant at the collegiate level, adding a running back of Henry's ilk would seem to make a ton of sense.
Derrick Henry stats (2019-22): 1,249 attempts, 6,042 rushing yards, 4.8 average, 58 touchdowns
Trading for a running back mere months after dealing away Pro Bowler Christian McCaffrey would be a decision. That's until we realize just how much Reich-led offenses have relied on the running game.
It was just back in 2021 that Indianapolis Colts star Jonathan Taylor won the NFL rushing title with Reich leading the charge. Depending on Carolina's quarterback situation, adding Henry to the mix would make this team the legit favorite in a pedestrian NFC South next season.