Bleacher Report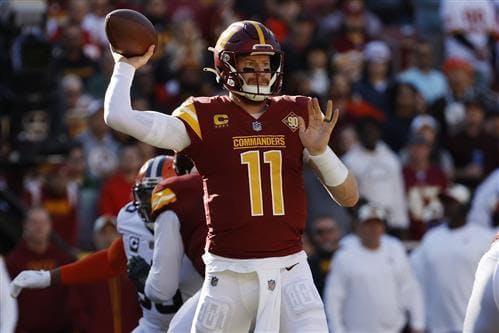 Who needs a backup quarterback or a short-term placeholder while a younger player develops in the background?
That is probably the question going through the heads of several general managers on Monday after the Washington Commanders released Carson Wentz, per ESPN's Adam Schefter.
The move reportedly saved the Commanders $26.2 million in salary-cap space this upcoming season, an easy choice to make after Wentz failed to consistently hold down the starting gig this season when healthy and finished the year with 1,755 yards, 11 touchdowns and nine interceptions in eight games, completing 62.3 percent of his passes.
The Commanders were a lowly 2-5 in his seven starts.
Wentz's level of play has consistently dropped since he appeared to be one of the bright young stars at the position early in his career. But injuries seemed to halt that progress, and stops in Indianapolis and Washington have left plenty to be desired. And now the question is simple: Who exactly is signing up for the Carson Wentz Experience?