The Big Lead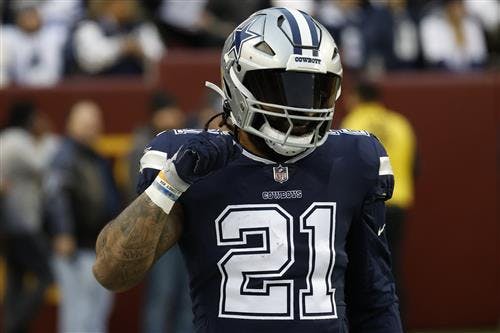 Last night may have been Ezekiel Elliott's last game in a Dallas Cowboys uniform and it is rather unfortunate that the last play of that game featured Elliott getting plowed over by a defensive lineman while playing center in the dumbest trick play we've ever seen. Alas, it is true, and it's because of Elliott's monster contract he signed a few years ago.
This offseason is basically the last chance the Cowboys have to get out of the $90 million extension they gave Elliott in 2019. The former All-Pro running back's cap hit fluctuates between $14 million and $17 million for the next four years, which is untenable for a guy who is clearly not even the best running back in his own backfield. If Dallas cuts him this offseason they have to eat an $11 million dead cap hit but save $5 million this offseason and even more down the road.
Now, this will not be the Cowboys' first instinct. It is clear that Jerry Jones loves Elliott and will want to keep him around if possible. Tony Pollard breaking his fibula last night only increases the possibility that Dallas will just figure something out with Elliott to ensure they have at least one RB they can rely on heading into the 2023 season. But it does take two to tango and Elliott may not be willing to give up the money he earned to reflect his current play.