Sportsnaut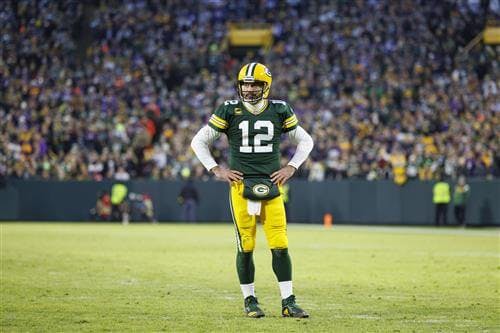 The 2023 NFL quarterback carousel promises to be active this season with Aaron Rodgers, Lamar Jackson and Derek Carr already being floated in NFL trade rumors. Considering blockbuster quarterback moves are a staple of the offseason calendar, we'll see more big moves in 2023.
Just a year ago, the Denver Broncos acquired Russell Wilson, Matt Ryan landed with the Indianapolis Colts, Carson Wentz was shipped to the Washington Commanders and the Cleveland Browns paid a historic price to land Deshaun Watson. While none of those teams made the playoffs, the Los Angeles Rams' success with Matthew Stafford will compel clubs to roll the dice with a headline-making move.
Taking free agency out of the equation, with Tom Brady and Geno Smith playing their own parts in the quarterback carousel, here are five quarterback trades we'd love to see this offseason.
Aaron Rodgers traded to New York Jets
Rodgers is expected to return for the 2023 season, but there is increasing skepticism that he ever plays another snap for the Green Bay Packers. After failing to make the playoffs in 2022, with tight salary-cap constraints, the team is no longer in a position to contend for a Super Bowl. Already destined for a rebuild, the Packers might as well hit the reset button now.
Influencing Rodgers' decision won't be difficult. If the Packers make it clear Marcedes Lewis and Randall Cobb won't return next season, signaling a rebuild, Rodgers will request a trade. There will be limited suitors, considering his contract and age, but the New York Jets are a natural fit.
Green Bay Packers trade: Aaron Rodgers
New York Jets trade: 43rd overall pick, conditional 2024 second-round pick
Because Rodgers threatens to retire every offseason and his contract eats up exorbitant cap space, the return in a trade is far more limited than one might expect. New York parts with the 43rd overall pick and a conditional 2024 selection that becomes a first-round pick if Rodgers plays in the 2024 season. It provides the Jets with some level of protection and Green Bay gets something for its future Hall of Famer.
By designating Rodgers as a post-June 1 trade, Green Bay leaves itself with a -$68.2 million cap charge in 2024. It's an expensive bullet for the team to bite, but it was always inevitable. The trade lets the Packers see what they've got in Jordan Love for the next two seasons. As for the Jets, they land a quarterback who plays up to the talent around him and helps take this team to the playoffs.