Bleacher Report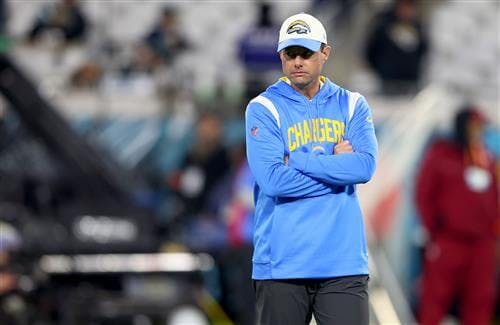 Among the opening scenes of Avengers: Endgame, Tony Stark sits on what amounts to a sinking vessel and stares in the void not knowing exactly what's to come. The same feeling can be attributed to multiple high-profile coaches around the NFL. They don't know exactly if their situation will drastically improve in the near future or result in failure.
Each will certainly try his best to rectify what went wrong this past season and get the job done. But they do so with full knowledge that another year of disappointment will almost certainly cost them their jobs.
In multiple instances, smaller moves have already been made to act as a buffer between needed change and a complete overhaul. The fact of the matter is that 18 teams didn't make the postseason. Among those franchises, five fired their head coaches, while six others made significant changes to their current staffs.
"We're going to evaluate on how we can get better," Washington Commanders head coach Ron Rivera told reporters during his end-of-season press conference. "There is a fine line."
Anytime those type of moves are necessary, an uneasiness begins to invade an organization, because everyone knows the next step brings finality for those currently steering the ship. As such, the fine line, as Rivera described, is removing what's perceived to be the problem without laying the entire blame on those who are making the decisions.
We're now in the endgame for five coaches hoping their fates don't ultimately end in their professional demise.
Brandon Staley, Los Angeles Chargers
Some may say that Brandon Staley was lucky to survive this year's chopping block based on how the the 2022 campaign ended.
First, he played his starters in a Week 18 contest that had no playoff seeding implications. In doing so, standout wide receiver Mike Williams suffered a fractured back during the 31-28 loss to the Denver Broncos that prevented him from participating in the team's postseason contest.
Then the Chargers quickly bowed out of the playoffs by squandering a 27-0 second-quarter lead to the Jacksonville Jaguars, who ultimately won 31-30.
All of this came a year after Staley inexplicably called a timeout in overtime against the Las Vegas Raiders that gave their rival enough time to win the contest and capture a postseason berth. Staley could have easily played for a tie, which Las Vegas seemed to be doing at the time, and both squads would have gotten into the dance.
Clearly, Staley's decision-making in critical moments has been questionable, at best. But the organization has long been known for finding ways to lose in unbelievable fashion, hence the term "Chargering."
What can't be overlooked is the team's 19-15 regular-season record since Staley became the head coach. During the previous two seasons, Los Angeles won 12 total contests. This uptick bodes well, though Staley has felt the squeeze coming out of the team's latest letdown.
The second-year head coach fired his offensive coordinator, Joe Lombardi, and quarterbacks coach, Shane Day, after the season. If the Chargers don't maximize what they have in quarterback Justin Herbert, Staley knows what happens next.
"You understand the way it is and that there's always going to be speculation when other people may not be thinking that you are having the success that they think you should have," Staley said of being on the hot seat.
Kevin Stefanski, Cleveland Browns
Being named the NFL Coach of the Year isn't necessarily a boon for an individual's career. Recent winners have a spotty track record.
Kevin Stefanski deservedly won the award following the 2020 campaign after leading the Cleveland Browns to their first playoff appearance in 18 years and first postseason victory in 26 years. However, the team experienced a downward trajectory over the following two seasons with 8-9 and 7-10 records in '21 and '22, respectively.
The next step is figuring out whether Stefanski fits into the category of a Mike Vrabel, John Harbaugh or Sean McVay, who proved they are long-term answers at their respective stops after winning the same award. Or does Stefanski fall in line with Ron Rivera, Jason Garrett and Matt Nagy after they didn't build upon that success and got served their walking papers years later?
Stefanski is now entering that window in his fourth year with the franchise. The former offensive coordinator and assistant coach shows an aptitude for building a strong offense, particularly when he scripts his initial plays. However, in-game adjustments and situational awareness tend to be lacking.
Another growing concern is how much control Stefanski has over his locker room. Multiple Browns came out publicly this year to criticize the performance of others and how they were handled. Jadeveon Clowney's outburst prior to Week 18 served as the thunderhead for this dark cloud.
"There's gotta be better communication across the board and there's gotta be a steady dose of leadership from the top down and we've gotta squash all this before it comes to a head like this," All-Pro defensive end Myles Garrett told reporters.
Most, if not all, of the animosity seemed to come from the defensive side of the ball, where the Browns continually suffered from on-field miscommunication and schematic breakdowns. As a result, Stefanski fired Joe Woods and hired veteran coach Jim Schwartz.
A better defensive performance coupled with a full year of working with Deshaun Watson could save Stefanski's spot. If the Browns suffer through another rocky campaign, change is almost certainly coming.