Sportsnaut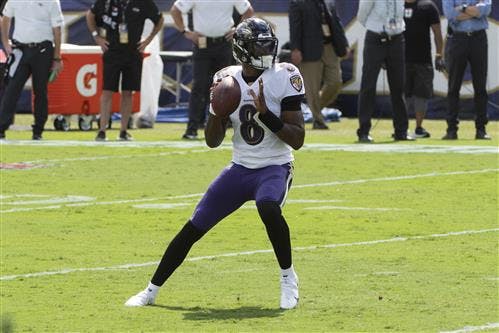 While there will be many suitors in a potential Lamar Jackson trade, it seems that the Atlanta Falcons and Carolina Panthers are the odds-on favorites, among many NFL executives, to land the former MVP if the Baltimore Ravens make him available.
One of the biggest stories in the upcoming NFL offseason will be the future of superstar quarterback Lamar Jackson. The 26-year-old will be a free agent, however, the Ravens are expected to use their franchise tag on him. Whether they use an exclusive or non-exclusive tag, it is far from a guarantee that he will remain on the roster next season.
Jackson represents himself and he has reportedly been steadfast in his desire to land a guaranteed contract, similar to what the Cleveland Browns gave Deshaun Watson last spring. Yet, it seems that Baltimore isn't ready to agree to such a deal, which is a rarity when it comes to NFL contracts.
With the two sides far apart, there is a distinct possibility the Ravens could look to trade him before next season, and it seems that two NFC South teams are seen as perfect landing spots in a potential Lamar Jackson trade.