Bleacher Report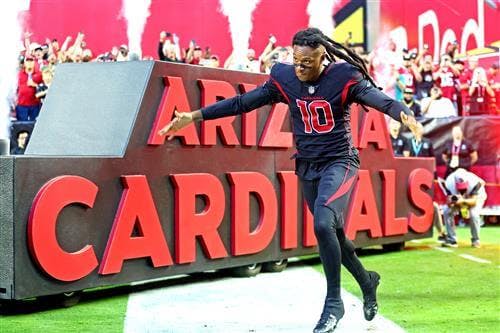 NFL teams can shake up the offseason with blockbuster trades that alter the plans of other clubs going into free agency and the draft. In the coming months, we could see big-name playmakers, starting-caliber quarterbacks and a head coach on the move.
As non-playoff teams begin to make offseason plans, NFL insiders have heard whispers about players potentially on the trade block. In some cases, you can see the writing on the wall with an aging quarterback or an incoming regime that may want to wipe a large salary off the books to save cap space in a rebuild.
Atop the 2023 draft order, the Chicago Bears can change the NFL landscape with how they handle the No. 1 overall pick.
While chatter about quarterback Lamar Jackson's future has generated some buzz, NFL Network's Ian Rapoport reported that the Baltimore Ravens plan to open talks with his camp about a long-term deal. Keep in mind that the Ravens can franchise-tag him, too. The two sides are unlikely to drift apart unless Jackson wants out of Baltimore, and he hasn't given that clear indication yet.
If the Ravens do everything possible to retain Jackson, teams in need of a quarterback still have other options who are more realistic trade targets.
Let's explore five possible trades that can change the dynamic of the league.
Cardinals Trade WR DeAndre Hopkins to the Giants
Last year, we saw the wide receiver market explode as Tyreek Hill, Davante Adams and A.J. Brown signed contracts worth $25-plus million with new clubs after blockbuster trades. Cooper Kupp, Stefon Diggs, D.K. Metcalf, Deebo Samuel, Terry McLaurin, D.J. Moore, Chris Godwin and Mike Williams also inked extensions for $20 million or more annually.
In the upcoming offseason, JuJu Smith-Schuster may be the biggest name set to hit the open market in a mediocre free-agent class of wide receivers. As a result, a top-tier wideout who wants a new deal could command a lot in contract negotiations.
According to Jordan Schultz of The Score, the Cardinals plan to trade wide receiver DeAndre Hopkins, and he'll "likely seek a new deal."
On Instagram, Hopkins posted a photo of himself with the caption "forever grateful," which may suggest that he expects to play elsewhere next season. Keep in mind that Arizona fired head coach Kliff Kingsbury, and general manager Steve Keim stepped down to focus on his health.
Hopkins has two years left on his contract, and his deal carries a $30.8 million cap hit next season, per Over the Cap. A team that's interested in the receiver can sign him to an extension and lower his 2023 cap hit on a modified pact.
In 2022, Hopkins served a six-game suspension for violating the league's performance-enhancing drug policy, yet still caught 64 passes for 717 yards and three touchdowns with a 66.7 percent catch rate in nine outings (missed two games with a knee injury). He ranked 10th leaguewide in receiving yards per contest (79.7).
Going into his age-31 term, Hopkins should have a decent market, specifically, teams flushed with cap space or playoff-contending clubs, and the New York Giants make the most sense.
Already a playoff team, the Giants can look to build on an impressive first year under head coach Brian Daboll. Big Blue can land Hopkins to replace Kenny Golladay, who hasn't played up to his four-year, $72 million contract as Daniel Jones' big-bodied (6'4″, 213 lbs) safety blanket receiver.
Big Blue could try to trade Golladay and if no team bites because of his contract, the front office can designate him as a post-June 1 cut and save $13.5 million against the cap, adding to their projected $54.2 million for 2023.
As a physical perimeter receiver, Hopkins would be a complement to versatile rookie wideout Wan'Dale Robinson, who tore his ACL in November, and slot receiver Sterling Shepard, who tore his ACL in September. He would likely become the go-to option and help 24-year-old Isaiah Hodgins' development.
This season, the Giants ranked 26th in passing yards; they desperately need another playmaker to bolster their aerial attack.
Bears Trade No. 1 Overall Pick to the Panthers
Chicago Bears general manager Ryan Poles said he would have to be "absolutely blown away" to take a quarterback with the No. 1 overall pick in the 2023 draft.
Perhaps that's Poles' attempt to drive up the compensation price for the top selection. Whether he spoke the unfiltered truth or set a weak smokescreen, quarterback-needy teams will find out what it would take to acquire that pick.
In B/R's latest mock draft, we projected a couple of Alabama prospects to take the top two spots with edge-rusher Will Anderson Jr. and quarterback Bryce Young going to the Bears and Houston Texans, respectively.
At No. 2, the Texans will probably select a quarterback if they don't land a veteran starter in free agency. Davis Mills mostly struggled through the 2022 season, throwing for 17 touchdowns and 15 interceptions (tied for the most leaguewide) with a 61 percent completion rate.
At the very least, Poles seems intrigued by quarterback Justin Fields' second-year strides—enough to trade the No. 1 overall pick and stock a 3-14 roster with early-round draft additions. If that's the case, the Carolina Panthers should make a strong offer for the top selection.
The Panthers have one quarterback on the roster for the 2023 offseason, rookie third-rounder Matt Corral, who went on injured reserve last August with a Lisfranc injury. Slotted ahead of Carolina, the Indianapolis Colts (No.4), Seattle Seahawks (No. 5), Las Vegas Raiders (No. 7) and Atlanta Falcons (No. 8) could all take a quarterback, which puts the Panthers in a precarious situation if they want a blue-chip prospect at the position.
Carolina can skip the line to land the best quarterback prospect in this year's class. The Panthers could package the No. 9 overall pick with one of their second-rounders and future draft capital to move up eight spots. If general manager Scott Fitterer chooses to do this, head-coaching candidates may find Carolina's open position a little more appealing with the chance to coach a potential franchise player.
Furthermore, the Panthers would have a young high-upside quarterback in a division that doesn't have any premier signal-callers in their prime years. If 45-year-old Tom Brady doesn't re-sign with the Tampa Bay Buccaneers, a rookie passer could quickly become the best at his position in the NFC South, which may keep the Panthers in the mix to win a division title.