Bleacher Report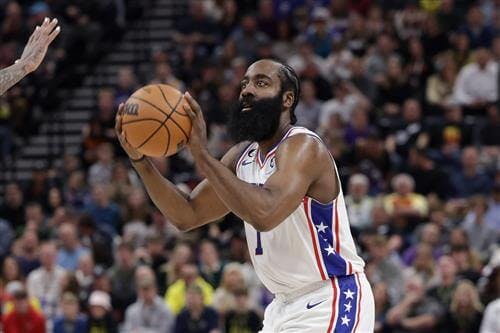 Prospect of a crickets infestation entering the 2023 NBA trade deadline got you down? You're not alone. A dearth of sellers around the league continues to rear its head, suggesting we may be in for a transactional lull that's heavy on housekeeping moves, but barren of smack-you-in-the-face blockbusters.
Faced with this sobering reality, there's only one thing to reasonably do: Ignore every harbinger of inaction and mundanity and will a gloriously busy and meaningful #SillySeason into existence by obsessing over glittery trade possibilities anyway.
You won't be solo if you step out on this limb. I'm already there, arms wide open, beckoning you with an uncool-person head tilt, a fanny pack's worth of bold trade deadline predictions fastened to my waist and a gift-wrapped bag of blockbuster-asset evaluations slung over my shoulder ready for you to sort through.
This exercise will unfold relative to the following hypothetical scenario: Your favorite NBA team is choosing to aggressively pursue a blockbuster trade ahead of the Feb. 9 deadline that actively improves its roster. They are buyers, in other words. Knowing this, what's the most valuable player or asset each squad should be willing to move in order to make it happen?
The Process Behind Each Blockbuster Asset Selection
We're trying to operate with some semblance of realism throughout this process. Not every team is currently looking for a star-level acquisition or its rough equivalent, but if they were, certain players and picks would be off limits.
These determinations will vary by the organization and their track record. The Orlando Magic aren't dealing Paolo Banchero. The San Antonio Spurs aren't trading their own first-rounder when they already pre-ordered Victor Wembanyama jerseys. But other calls will be less obvious.
Would the Indiana Pacers trade Bennedict Mathurin? Would the Sacramento Kings move Keegan Murray? Would Orlando consider shipping out one of its own firsts? So on and so forth.
In most cases, entrenched stars won't be up for consideration. Blockbuster buyers usually want to partner incumbent cornerstones with comparably impactful running mates. For the most part, anyway. There will be some exceptions—including one right out of the gate.
Brace yourself for a lot of draft-pick talk. Teams jettisoning red-carpet names usually prioritize those over everything. The Utah Jazz didn't send Donovan Mitchell to the Cleveland Cavaliers because they thought Lauri Markkanen was an instant All-Star hiding in plain sight. That deal was more about the bounty of first-round picks (three) and swaps (two).
At the same time, first-rounders conveying after 2025 will be selected only as a last resort. Front offices generally don't have the job security necessary to view inbound firsts from the ultra-distant future as must-adds. The calculus changes when those picks come with other goodies (i.e. look at the Utah Jazz this past summer). By and large, though, it makes more sense to balance both the immediacy and prospective long-term value of an asset.
Finally, contract situations will be taken into account. Sellers facing rebuilds or retools tend to favor players under cost control. If someone is approaching free agency or due for an extension, it will detract from their outside appeal. To that end, players who signed rookie-scale extensions that have yet to kick in—RJ Barrett, Tyler Herro, Jordan Poole, etc.—will be excluded. The Poison Pill Provision makes it harder to move these deals prior to the offseason.
And with that, we're off.
Atlanta Hawks: Trae Young
Including Trae Young should go against the spirit of this shindig. He is an All-NBA talent, even amid his dip in offensive efficiency. Twenty-four-year-old stars with three team-controlled seasons left on their contract (2026-27 early termination option) aren't typically available when looking to improve the state of affairs.
And yet, the Atlanta Hawks have officially entered anything-is-on-the-table territory.
Shakeups have already taken place inside the front office, and the decision-making structure up top seems questionable at best and driven entirely by nepotism at worst. John Collins' value has cratered, and he's using air quotes to comment on the front-office hierarchy.
Head coach Nate McMillan is either on the hot seat, on terrible terms with Young or contemplating retirement—or some combination of all three. Dejounte Murray is visibly shellshocked by Atlanta's unrest. The bench is underwhelming, even with the emergence of rookie AJ Griffin and the return of Bogdan Bogdanovic. Clint Capela hasn't played for the better part of a month while dealing with a calf injury, and it feels like a footnote.
All the while, the Hawks are gargantuan disappointments on the court, hovering under .500 while severely underachieving at the offensive end. League executives now think Young will be the next superstar to demand a trade, according to Bleacher Report's Chris Haynes.
That doesn't mean Atlanta is obligated to use Young as a blockbuster magnet. Murray himself could be the answer, but he has just one year left on his deal before free agency, with alternatives wearing thin. Collins no longer has the cachet, De'Andre Hunter is harder to trade after signing an extension, and Onyeka Okongwu isn't primary-cornerstone material.
Defaulting to the Hawks' 2023 first-rounder is a worthwhile move. They are so uninspiring that it could end up being a higher lottery pick. But it has to convey this season, because of their 2025 obligation to San Antonio, limiting optionality. Sending Atlanta good players also diminishes the value of this year's selection.
Moving Young doesn't have to be a complete divestiture. His age and contract length should allow the Hawks to fetch a Donovan Mitchell-level package in which they bag not only draft equity, but immediate impact players who complement and deepen a core built around Murray, Hunter and Capela.