Bleacher Report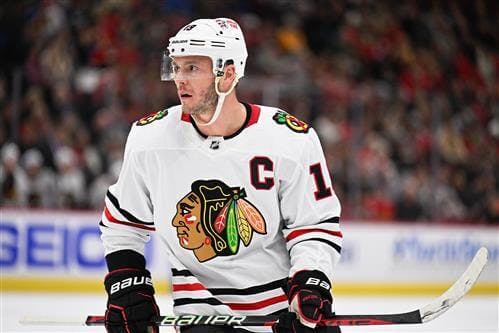 The NHL's March 3 trade deadline is just two months away. While there will be an increase in player movement leading up to that date, we can also expect a rise in media speculation over potential trade candidates in the coming weeks.
Most of the players who could be on the move, such as Chicago Blackhawks winger Patrick Kane and Vancouver Canucks center Bo Horvat, are unrestricted free agents on teams that are well outside the postseason picture or struggling to remain in the playoff chase.
Others, such as Arizona Coyotes defenseman Jakob Chychrun or Canucks winger Brock Boeser, still have term remaining on their contracts. The reasons for their availability in the trade market vary. Chychrun has requested a trade, while Boeser could be shopped in a cost-cutting deal.
The number of notable players mentioned in media trade chatter increased throughout December. Here's our list of 15 potential trade candidates entering January 2023 based on talent, market value and possibility of getting moved before March 3.
15. Erik Karlsson, San Jose Sharks
The San Jose Sharks are sliding further out of playoff contention, but Erik Karlsson is on pace for a career year. The 32-year-old leads all NHL defensemen with 53 points in 39 games, putting him on pace to exceed his previous career high of 82 points. He could also become the first blueliner to reach 100 points since Brian Leetch in 1991-92.
Sharks general manager Mike Grier's admission of his willingness to at least entertain offers for Karlsson generated a stir in November, propelling the two-time winner of the James Norris Memorial Trophy into the third spot on our December 2022 NHL Trade Block Big Board. Since then, however, talk of trading the Sharks blueliner has cooled.
On Dec. 1, Sportsnet's Elliotte Friedman speculated the Florida Panthers could have an interest in Karlsson but considered it to be "an extremely difficult puzzle to piece together." Five days later, TSN's Darren Dreger reported some in the Edmonton Oilers organization were interested but Daily Faceoff's Frank Seravalli subsequently debunked that rumor.
Every NHL team would love to have a superstar such as Karlsson on its blue line. However, the sticking point is his contract. He's signed through 2026-27 with an average cap hit of $11.5 million plus a full no-movement clause. Those factors make a Karlsson trade unlikely to happen before March 3.
14. Jesse Puljujärvi, Edmonton Oilers
Edmonton Oilers winger Jesse Puljujärvi has frequently surfaced in trade speculation going back to the offseason. On Dec. 10, Sportsnet's Elliotte Friedman reported that the Oilers were looking into moving the unhappy 24-year-old winger, who's managed just nine points in 38 games.
Signed last summer to a one-year, $3 million contract, Puljujärvi is slated to become a restricted free agent with arbitration rights on July 1. Friedman cited an interview that the winger gave to a Finnish reporter in which he spoke candidly about his offensive struggles and where he fits into the Oilers' lineup.
Five days later, Friedman reported hearing the Anaheim Ducks, Carolina Hurricanes and Detroit Red Wings had looked into acquiring Puljujärvi. However, he doesn't think they've come close to making an offer the Oilers would consider fair. Friedman also doesn't see them moving the Finnish winger until their lineup is healthier.
Given Puljujärvi's RFA status, the Oilers could wait until the offseason for a decent offer if none appear by the March 3 trade deadline. Given his low production and public comments about his scoring difficulties, they might have little choice but to accept the best return they can find and move on from the once-promising winger.