CBS Sports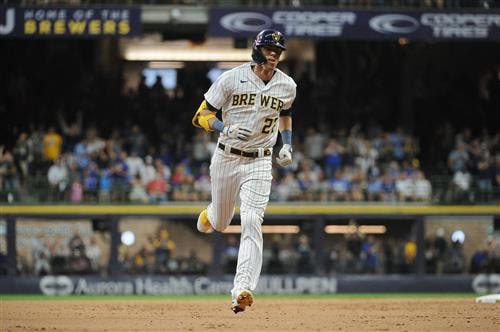 When it comes to the trades made among Major League Baseball's 30 franchises, the most fascinating entail clubs exchanging players from positions of strength. Consider, as an example, the recent three-player swap that sent outfielder Daulton Varsho from the Arizona Diamondbacks to the Toronto Blue Jays in exchange for catcher Gabriel Moreno and outfielder Lourdes Gurriel Jr. The Diamondbacks had too many talented outfielders, the Blue Jays too many talented catchers. So, what did they do? They solved each other's logjams.
The Varsho deal, in concert with an otherwise lethargic trade market this offseason, got us here at CBS Sports thinking about other teams who could be well-equipped to make similar strength-for-strength deals. Below, you'll find five such teams who have positional clusters that would lend itself to serving in a Blue Jays- like capacity, wherein they trade a talented, if somewhat blocked player for another player who happens to fill an area of need.
But first, we're legally obligated to implore you to think of this just as a thought experiment. With that out of the way, let's get to the bumbling, stumbling, and rumbling. (Do note that there's no actual rhyme or reason behind the order of the teams.)
1. Cincinnati Reds: left-side infielders
No other MLB organization has more compelling left-side prospects than the Reds do. Last summer alone, they added Noelvi Marte, Edwin Arroyo, Spencer Steer, Christian Encarnacion-Strand, Cam Collier, and Sal Stewart through trades and the draft to a group that already featured notables like Elly De La Cruz, Matt McLain, Tyler Callihan, and Jose Torres, among others. Cruz (No. 11) and Marte (No. 13) both made CBS Sports' top 20 prospect list, and Arroyo and Collier weren't far off. The Reds, still very much in the talent-accumulation phase of their rebuild, would be wise to move some players they consider extraneous to fill other holes on their depth chart.
2. Milwaukee Brewers: outfielders
We've mentioned the Brewers' potential outfield logjam before. The short version is that they're rolling into the season with a starting group that includes Christian Yelich, Garrett Mitchell, and Tyrone Taylor or some other so-so option. They'll have the chance to replace the latter in due time, as top prospects Sal Frelick and Joey Weimer are slated to start their years in Triple-A. What's more is that Jackson Chourio, one of the best prospects in the entire sport, will kick off his 2023 campaign in Double-A. If Chourio plays the way he did last season, he could force his way into the majors before he celebrates his 20th birthday and leave the Brewers with more talented outfielders than roster spots.