Sportsnaut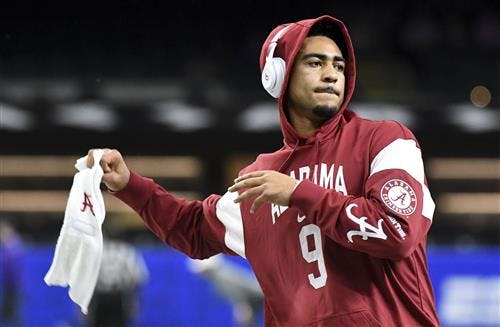 After winning the Heisman Trophy in 2021 as a sophomore, Bryce Young had no choice but to return to the Alabama Crimson Tide for his junior season. In 2022, we saw Young once again have a great year, but he also missed two games due to injury and also didn't enjoy nearly as much team success.
After two stellar seasons playing in the SEC, Young, as expected, said he will leave Alabama after his junior year and declare for the NFL Draft.
Not only is Young touted as a potential first-round prospect, many view him as the possible top overall pick. Young threw for over 8,000 yards in college, where he routinely faced top competition at Alabama. During that time, Young displayed many impressive traits that could help him at the next level, such as his strong leadership, sharp awareness, and his ability to make something out of nothing.
Bryce Young stats at Alabama: 65.6% comp rate, 8,035 passing yards, 75 TD, 12 INT
Yet, like any potential pro prospect, he also has his drawbacks. Listed at 6-feet-0, Young doesn't have the size NFL teams prefer from elite quarterback prospects. It's a classic case of, do you place more value on the eye test of what he accomplished and can do, or do the measurables taint our view of an otherwise tantalizing skillset?
These are questions we're sure to hear plenty of back-and-forth discussion about leading up to April 27, when the first day of the 2023 NFL Draft begins.
Following Young's official declaration for the NFL Draft, let's evaluate the best landing spots for him with teams projected to have top picks.
Houston Texans find their face of the franchise
Even when they had Deshaun Watson, the Houston Texans failed to supply him with enough talent. Whether it was a shoddy offensive line, a lack of secondary weapons, or just a failing defense, even the Watson days were marred by bad play. It hasn't changed since he was traded.
Davis Mills, selected in the third round of the 2021 NFL Draft, was never really expected to become the team's franchise quarterback. Yet the Texans gave the former Stanford grad a chance to earn the starting role from the start. Predictably the results haven't been great, which is why they need to try and identify a long-term solution ASAP.