Sportsnaut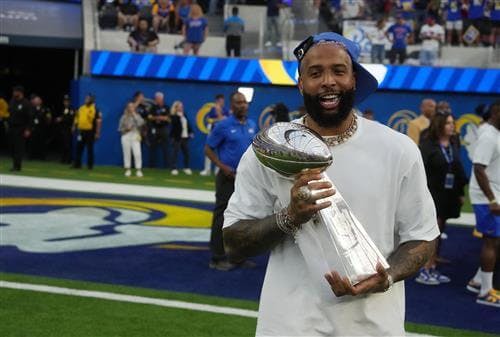 We're finally nearing the point when Odell Beckham Jr. will make his return to the football field. After tearing his ACL in February's Super Bowl win with the Los Angeles Rams, OBJ has spent the past nine months in recovery.
Now reportedly healthy and cleared to return, Beckham remains an unrestricted free agent, where he's able to sign with any of the 32 NFL teams. Previously it was believed that the Rams would once again be favorites to re-sign the talented 30-year-old receiver, but now that the reigning Super Bowl champs have lost four in a row to fall to 3-7, a reunion won't be happening.
Instead, we've heard of other actual contending teams being in the mix to land the three-time Pro Bowl receiver. Some of the teams included in this bunch feature the Buffalo Bills, Dallas Cowboys, New York Giants, and Los Angeles Rams.
Yet, a more recent report has suggested Beckham is only set to meet with two teams after Thanksgiving's three-game slate. The two teams he's planning to visit are the Cowboys and the Giants, who he entered the league with and played five seasons for.
While both teams could certainly use a player like Beckham, and the Giants arguably have the bigger need, it's actually the Cowboys who we see as winning the OBJ sweepstakes. Here's why.
Dallas Cowboys can make OBJ a star again
If there's one thing that we've learned about Beckham and several other stars over the years, it's that they like to be loved. Beckham quickly found fame as a rookie back in 2014, but he hasn't made a Pro Bowl since 2016. It's been a long time since he's been considered one of the best at his position, yet there was a time when he was viewed as the undeniable top receiver in football.
We're far from that point, but to be fair, Beckham did show that he can still make a huge impact week to week after joining the Rams.
Odell Beckham Jr. stats with Rams: 48 receptions, 593 receiving yards, 7 TD catches
Reaching the Pro Bowl in each of his first three seasons, Beckham's star has since faded. But we started to see him shine again in L.A. While there's some uncertainty as to how quickly he can regain top form following another ACL injury, there's less skepticism this time around as he's already beaten the odds once.
After winning a Super Bowl, but not being able to finish the game due to injury, it's hard to imagine OBJ not being more motivated than ever to return. Yet, if he wants to get back to becoming recognized as a star, what better atmosphere to do it in than in JerryWorld, playing for one of the most popular teams in football?