CBS Sports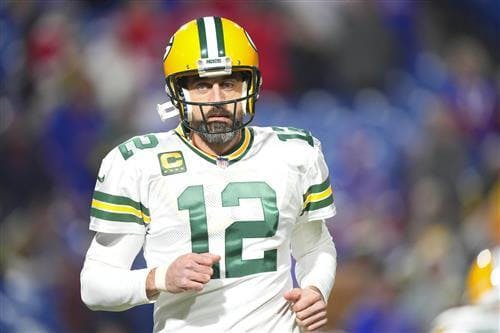 Aaron Rodgers and the Packers went three straight seasons with at least 13 wins and a playoff appearance from 2019-2021. With less than half of the 2022 campaign remaining, Green Bay isn't even guaranteed to crack the postseason this time around. And Rodgers, 38, is enduring one of the roughest offensive performances of his career. It's not inconceivable, after back-to-back offseasons in which the legendary quarterback entertained a split from the Pack, the possibility will arise again.
Rodgers just signed a three-year, $150 million contract extension in March. He's probably more likely to retire, or return to Green Bay in 2023. But he's flirted with relocation before, and the Packers are financially strapped approaching the 2023 offseason, with glaring holes at key positions. Assuming the ship isn't righted before the end of this season, an ensuing trade might benefit both parties: Rodgers could theoretically salvage whatever's left of his career on a better contender, and Green Bay could stock up on draft picks for a true rebuild under general manager Brian Gutekunst.
Offloading his monster contract would bring challenges, but Rodgers doesn't have a no-trade clause in his deal, meaning he can be shipped anywhere, and his bonuses are structured in such a way he isn't unmovable. He's also relatively affordable for a potential acquiring team, at least in 2023, when he's due to count $31.6M against the salary cap — No. 10 among all QBs.
With that in mind, here's an early look at logical suitors for Rodgers, in the event he and Green Bay agree to part ways:
11. Broncos
Denver was reportedly high on Rodgers' wish list had he not re-upped with the Packers ahead of 2022, and the Broncos reportedly made a strong run at A-Rod before selling the farm for Russell Wilson. The logistical hurdles would be immense, but how about swapping one aging star for another? Nathaniel Hackett could reunite with a QB proven to gel with him, and Wilson could get an Aaron Jones-led ground game, with a chance to actually further his legacy for a historic franchise.
10. Falcons
Marcus Mariota barely registers as a short-term starter, let alone a long-term investment. But the Falcons are competitive in a wide-open division, with tons of 2023 cap room ($57M). They've proven under Arthur Smith, successor to current Packers coach Matt LaFleur in Tennessee, they can run the ball; all they need now is a difference-maker under center.