Heavy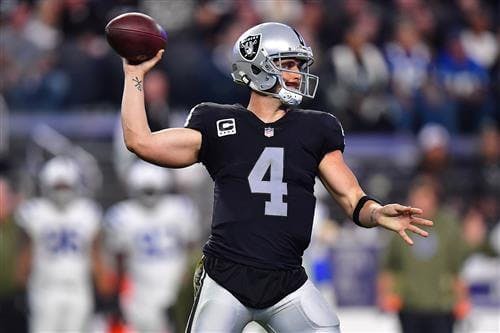 Tom Brady will be the Tampa Bay Buccaneers quarterback for as long as the legend would like, but his brief retirement last offseason shows his career could be nearing the end after the 2022 season. The Bucs may be in the market for a new quarterback in 2023, and Pro Football Focus' Doug Kyed suggests the Raiders could explore trading Derek Carr. It is important to note that Carr has a no-trade clause, so the veteran would have to agree to any potential deal, per NFL.com.
If Las Vegas does look to trade Carr, the team likely needs to make it happen before the Super Bowl to avoid the quarterback's $32.9 million salary becoming fully guaranteed for 2023. The challenge is the Buccaneers are unlikely to have an answer from Brady on his future until well into the offseason.
"The Raiders 'committed to' quarterback Derek Carr with a three-year contract extension this offseason worth $120.5 million with $24.9 million guaranteed at signing," Kyed wrote on November 16, 2022. "Only his $17.4 million 2022 salary and a $7.5 million signing bonus were fully guaranteed. His $32.9 million 2023 salary and $7.5 million of his $41.9 million 2024 salary are currently guaranteed for injury. Those become fully guaranteed three days after this season's Super Bowl.
"If head coach Josh McDaniels is retained for the 2023 season despite Las Vegas' early-season struggles — which is the current expectation — it wouldn't be surprising to see someone fall on the sword. And there has been speculation around the NFL that it could be Carr via a trade.
"…The Raiders would be wise to find a trade partner before the Super Bowl so as to ensure they wouldn't be stuck with his $32.9 million salary in 2023."