The Athletic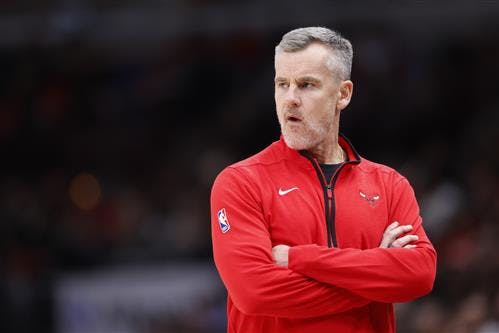 Coaching is a fickle business.
One day you're the savior of a franchise, and the next day you're talking about getting hired as an assistant somewhere as you collect money from the final two years left on your head-coaching deal.
In the NBA, coaches get swapped out all the time. Coaches have won NBA Coach of the Year awards only to hunt for a new job that same offseason. Remember when Dwane Casey was fired by the Raptors and then later congratulated on Twitter for his coaching prowess? Pepperidge Farm remembers.
Things pop up and surprise us all the time. Just look at Brooklyn, where Steve Nash departed early this season after Kevin Durant tried to get him fired in the offseason in a power struggle with Joe Tsai over a trade request. The turn on a coach can happen in the blink of an eye.
Let's take a look around the NBA at all 30 coaches, interim and full-time, and see just how worried they should be about their job status moving forward. We'll lump them into categories and do what sports fans love to do — bandy about someone else's employment!
You get to leave when you want
Gregg Popovich, San Antonio Spurs: It's Popovich's 27th year as the head coach of the Spurs, and I think it's safe to say he's got a little bit of job security here. We've had more drama and intrigue about who will take the Spurs sideline torch from him than whether he'll be removed as coach. This could be his last season. Or the 73-year-old could decide to coach another five years. We're never quite sure, but the Spurs aren't sending him anywhere.
Erik Spoelstra, Miami Heat: LeBron James tried to get Pat Riley to have the itch to coach the Miami Heat again during the early days of that run on South Beach. Spoelstra had only been a head coach for two years at that point, and we'd seen Riley take over for Stan Van Gundy to win a title in 2006. Riley never wavered on Spoelstra. Two titles and five trips to the NBA Finals (including one in 2020) later, the Heat aren't going to fire Spo any time soon, if ever. If anything, he might be the next Pat Riley for this organization, where he's in the front office and players are trying to get him back on the sidelines for one more run.
Steve Kerr, Golden State Warriors: As much as Warriors Twitter is driven mad by Kerr and his decisions, it feels pretty safe to assume he'll leave this job on his terms, not the terms of a fallout with the trust of the organization. Kerr has coached the Warriors to four titles in eight seasons, and the Warriors are hoping to get it together to make a run at five titles in nine seasons. Kerr's health (a previous back issue that was pretty serious) might knock him out, but a pink slip won't.
You just got hired, so you're safe
Mike Brown, Sacramento Kings: Brown has not fixed the Kings' problems on defense so far, but he has them over .500 after 13 games for the first time since 2018-19 when Dave Joerger was the coach. Their offense is on fire, and they feel very confident in what's happening. The one concern with Brown keeping his job is that the Kings have had 12 different coaches since Rick Adelman in 2006. Michael Malone once started 8-5 and was replaced at 11-13. Everybody seems to love Brown, though, and the Kings are off to an encouraging start.
Darvin Ham, Los Angeles Lakers: Ham was given a bag of groceries that contained oat milk, a box of cereal and a plastic fork before being told to make a Wagyu steak with sautéed spinach and potatoes au gratin. Not even the Lakers would scapegoat him this early.
Will Hardy, Utah Jazz: Maybe Hardy will get fired for the Jazz winning when Danny Ainge has his eyes fixated on Victor Wembanyama, but he's definitely not going anywhere. He was one of the hottest assistant-coach names for a long time, and he's off to a fantastic start with a team full of role players.