Bleacher Report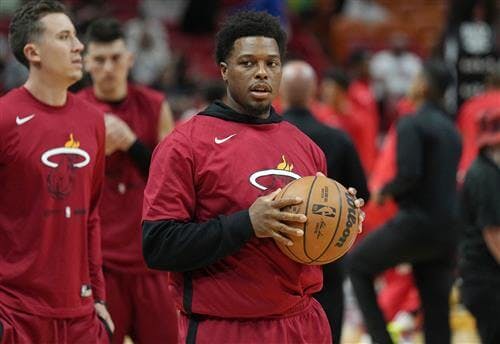 The 2022-23 NBA season is off to a surprising start for some teams.
The Utah Jazz, who traded their three best players in the offseason, are 10-4 and in first place in the West while the playoff-hopeful Los Angeles Lakers are tied for the league's worst mark at 2-10.
Sluggish starts by teams like the Miami Heat, Dallas Mavericks and Brooklyn Nets could lead to some early trade action as well, and the ongoing circus in New York's second-largest borough could have the franchise going in a number of different directions.
The following NBA trades would have previously shocked the league, although all are looking more likely as the season unfolds.
Jazz Add Myles Turner for Surprising Playoff Run
Utah Jazz Receive: Myles Turner
Indiana Pacers Receive: G/F Talen Horton-Tucker, C Walker Kessler, PF Rudy Gay, 2023 first-round pick (lottery-protected)
After trading Donovan Mitchell, Rudy Gobert, Bojan Bogdanovic and Patrick Beverley this offseason, Utah looked like a firesale waiting to happen.
Instead, the Jazz have posted the NBA's third-best record and fifth-highest net rating (plus-5.3) through the first three weeks, leaving the franchise in an awkward position.
While tanking the season for a top draft pick was the goal, should Utah keep riding this wave and actually look to build on what's become a deep and talented young roster?
If so, this could be a surprising new home for Turner.
The 26-year-old is averaging 17.9 points, 8.7 rebounds and 3.1 blocks in his 28.3 minutes and would help anchor a defense that's stayed remarkably similar to last year's version with Gobert. A starting lineup of Mike Conley, Jordan Clarkson, Lauri Markkanen, Kelly Olynyk and Turner is huge and brings a nice balance of scoring, playmaking, outside shooting and now shot-blocking.
Putting a lottery protection on their own first-rounder ensures that if the Jazz suffer some injuries or fall back into tank mode that they keep their pick as well.
For the Pacers, this is a chance at possibly adding a fourth first-round pick in 2023 to assist with their rebuild and keep Utah away from the lottery if possible.
Horton-Tucker is still just 21 and can be a foundation piece moving forward, while Kessler, the 22nd overall pick in the 2022 draft, gives Indiana a young, defensive-minded center with Turner gone.
Heat Move on from Kyle Lowry
Miami Heat Receive: PF Kyle Kuzma, PG Monte Morris, G/F Will Barton
Washington Wizards Receive: PG Kyle Lowry, F Haywood Highsmith, 2023 first-round pick (lottery-protected)
The Heat are off to a disappointing 6-7 start to the season, with the declining play of Lowry a big reason why.
The 36-year-old is showing his age and posting the worst swing rating of his career, with Miami getting beat by 13.7 points per 100 possessions with Lowry on the floor (14th percentile overall, per Cleaning the Glass).
For an offense that ranks just 17th overall with Lowry running the point, it may be time for the Heat to move on.
Getting Kuzma solves the starting power forward problem, as the 27-year-old has been a talented scorer for Washington in an expanded role. Morris can step in as Miami's starting point guard in place of Lowry, and Barton is a do-it-all wing Erik Spoelstra can plug into the rotation.
Washington could use Lowry as a placeholder at point guard in the backcourt next to Bradley Beal, and moving veterans such as Kuzma and Barton open up more playing time for Rui Hachimura, Deni Avdija and Corey Kispert to shine. The Wizards also get Miami's first-round pick next summer, assuming the Heat reach the playoffs.