The Athletic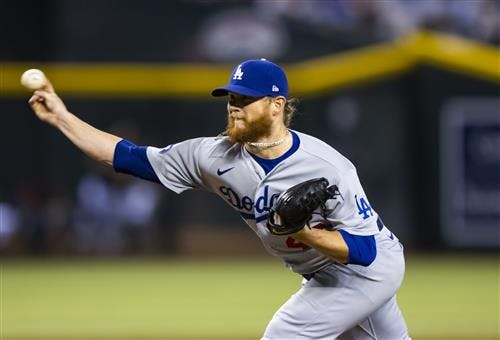 One of the most important lessons I learned working in MLB front offices for more than a quarter century, including 16 years as a general manager, is that a team's weaknesses will be exposed in the playoffs. Every team has weaknesses, even the heavyweights in this postseason's growing field such as the Dodgers, Astros and Yankees. Who will overcome theirs? Who won't?
Here is the biggest problem each postseason team — and those on the verge of making the 12-team tournament — needs to worry about.
National League
Dodgers — Who will be the closer?
(106-48; +321 run differential)
Manager Dave Roberts announced last week that Craig Kimbrel would no longer be the team's closer. At the time, Roberts indicated he'd temporarily take a closer-by-committee approach, but he did not commit to that strategy for the postseason.
Kimbrel's removal from the role was no surprise. He has five blown saves, a 4.02 ERA and a 1.357 WHIP. The Dodgers hoped Daniel Hudson and Blake Treinen would be Kimbrel's set-up relievers this season, and that either one could replace him in the closer role if needed. However, Hudson is out for the year with a torn ACL and Treinen is on the injured list with right shoulder soreness, an injury that has plagued him all season.
Evan Phillips has been the Dodgers' best reliever, posting a 1.20 ERA in 61 appearances and showing he can get out both right- and left-handed hitters. However, he's blown two of four save opportunities and Los Angeles likes to use him in high-leverage situations in the sixth, seventh and eighth innings. Brusdar Graterol, and his nasty bowling-ball sinker, is back from the IL and could be an option, along with right-handers Tommy Kahnle and Chris Martin and left-hander Alex Vesia.
The best solution could be flame thrower Dustin May, but he was placed on the IL on Saturday because of lower back tightness. The Dodgers are optimistic May could be available for the NLDS, a source told The Athletic's Fabian Ardaya. Meanwhile, the Dodgers are hoping right-hander Tony Gonsolin's minor-league rehab assignment goes well and allows him to slot between Julio Urías and Clayton Kershaw at the top of their postseason rotation, with Tyler Anderson serving as the fourth starter.
The Dodgers have the best team in MLB based on win-loss record, run differential and the scouting reports, but the uncertainty about how they'll close out postseason games could cost them.
Mets — Will the lack of a lefty specialist reliever haunt them?
(97-58; +155 run differential)
The Mets will enter the postseason with the most dominant 1-2 starting pitchers — Jacob deGrom and Max Scherzer — but also a deep rotation with Chris Bassitt, Carlos Carrasco and Taijuan Walker, who all have ERAs under 4.00 this season. Combine that with the league's best closer, Edwin Díaz, and the Mets have the pitching to advance to and win the World Series. And on offense, Pete Alonso and Francisco Lindor are more than capable of carrying them, especially if Starling Marte and Brandon Nimmo can continue to be on-base machines in the playoffs.