Fadeaway World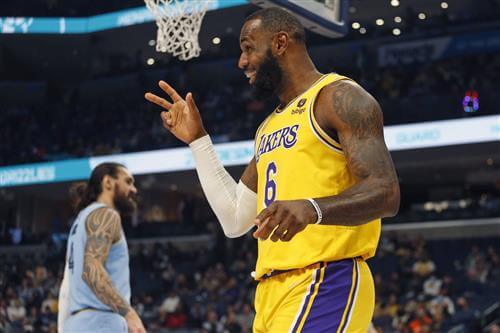 The player most shopped by the Los Angeles Lakers this offseason is Russell Westbrook, a former MVP who had one of his worst seasons last year. The point guard struggled to fit the Lakers roster because he could not shoot the ball well enough or play off the ball effectively. In many ways, he was exposed. But perhaps the Lakers have been trying to move the wrong player, hoping to find a better-suited star alongside LeBron James and Anthony Davis.
What if the Lakers were to trade LeBron James, arguably one of the top-5 players in the world right now? The King had a fantastic season by posting 30.3 PPG, 8.2 RPG, and 6.2 APG while nailing 52.4% of his field goals. Those are elite numbers from an elite player, so it is no wonder why the Lakers are trying to find someone to complement him. But it is far easier said than done when it comes to finding a suitable teammate for LeBron and Anthony Davis.
For one, Westbrook is essentially an untraceable asset because of his poor production last year coupled with his $44 million salary. Meanwhile, LeBron is approaching 38 years old, and the only way to gamble for a two-year window is by sacrificing all of the future draft capital owned by the franchise. It is likely far-fetched that the Lakers would be contenders by simply moving Westbrook and all of their draft picks.
Instead, the Lakers should try to trade LeBron James. As crazy as that sounds, it could work because he has the most trade value on the team and could be a player that could bring in a legitimate superstar to pair alongside Anthony Davis and Russell Westbrook. This could work, especially if one of the three packages delivers a chance for the Lakers to be competitive again. Because as things stand, the Lakers will not win with their roster and won't be able to bring in a star at the expense of Russell Westbrook.
Perhaps most importantly, leaving Los Angeles could give LeBron James the best chance to win his elusive 5th NBA championship, an achievement that would probably take his legacy to an entirely different level. Without further ado, here are the three best trade packages that could be offered for the services of 4-time NBA champion LeBron James.
Brooklyn Nets
Trade Package: Kevin Durant for LeBron James
With LeBron James on board in Brooklyn, the sky is the limit for the Nets. They can get Simmons to learn from one of the greatest players ever, and there is no secret that The King is fond of the Australian star. With LeBron and Simmons, the Nets have two franchise playmakers to build upon. Of course, LeBron can prime Simmons to be the next big thing and actually help the Australian one day reach superstar potential. Remember, it was only a few years ago when most people touted Simmons to be one of the future faces of the league.
But by far the biggest X-factor in this deal could be Kyrie Irving. LeBron's former teammate, Kyrie, could be tempted to stay because he has his big brother back beside him. There is no doubt that LeBron and Irving fit perfectly together, and instead of playing together in Los Angeles, they can team up with the Nets alongside Ben Simmons and a sharpshooter in Seth Curry. For LeBron James, this could work out perfectly because he also gets a chance to continue playing in a big market in New York.
A player as big as James wants his mystique to be recognized, and Brooklyn would welcome him in open arms. Even though The King is happy in Los Angeles, the city of Brooklyn could still keep the star in the media's light and close to all the action. LeBron has a far better chance of winning a title with the Nets alongside Kyrie and Simmons than he does in Los Angeles with Davis and Westbrook.
Of course, for the Lakers, they receive arguably the best player in the world in his prime right now to pair alongside Anthony Davis and Russell Westbrook. Losing LeBron will hurt, of course, but not if it means getting back Kevin Durant. It would be a meme-fest if Durant reunites with Westbrook, but it could potentially work since Russ is basically fighting for his career right now. The Lakers are all about stars, and there is no doubt that Durant is one. With the 4-time scoring champion on board, the Lakers are back in the title hunt while LeBron has his best chance to win his 5th championship in this straight swap deal.