Sports Book Review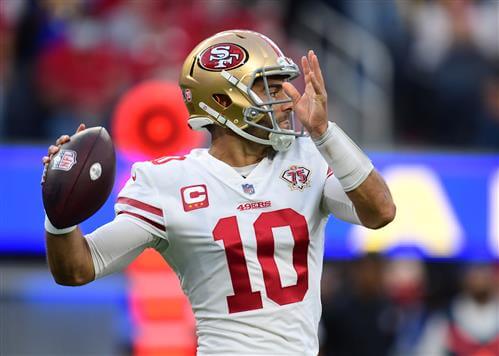 Ever since the Cleveland Browns traded quarterback Baker Mayfield to the Carolina Panthers, there has been some suspicion that Cleveland might be the next destination for San Francisco 49ers quarterback Jimmy Garoppolo.
Garoppolo, 30, has started 45 games for the 49ers over the past five seasons. While he has missed significant time with injuries, he has also been surpassed on the 49ers' depth chart by Trey Lance, the third pick in the 2021 Draft.
The Niners have compiled a 31-14 record with Garoppolo starting at quarterback and he has completed 67.7% of his passes, throwing 66 touchdowns and 38 interceptions. This all suggests that Garoppolo is a legitimate starting quarterback.
As for the Browns, they are still waiting on the final word when it comes to Deshaun Watson's suspension. An arbitrator ruled that a six-game suspension would be sufficient, but the NFL has appealed that decision, so there is the chance that Watson could miss more time; thus, the potential interest in Garoppolo to keep Cleveland competitive in 2022.
Odds for Jimmy Garoppolo's next team courtesy of DraftKings.
Cleveland Browns (+200)
The Browns seem to be the favorites for Jimmy G, not least of all because of their likely need at the position, but also because Cleveland has a chance to be a competitive team, so they should be motivated to make a deal for a bona fide starting quarterback after Watson's suspension.
Seattle Seahawks (+350)
It would make plenty of sense for the Seahawks to add Garoppolo because he is better than the two quarterbacks battling for the starting job in Seattle, Geno Smith or Drew Lock.