Bleacher Report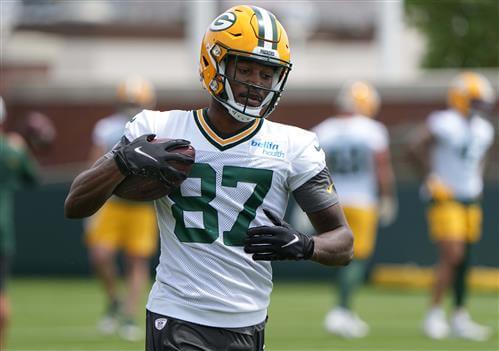 Training camp is a huge milestone for rookies looking to find immediate success in the NFL. Unlike the work that comes in the spring with mini camps and OTAs, the pads start coming on at training camp, and they are immersed in the competition of the league.
For some, it's a reality check that they have a ways to go before contributing. For others, it's the opportunity to stand out, get noticed and prove they are ready to be on the field right now.
With most teams starting to put pads on and ramping things up, we are starting to get a feel for which rookies are in that second category.
Here's a look at some rookies who are making a positive first impression thus far.
WR Romeo Doubs, Green Bay Packers
It's no secret the Green Bay Packers are going to need a young receiver to contribute this season. It just might come as a surprise when it's fourth-round pick Romeo Doubs.
The former Nevada star consistently received praise for his work in the spring. Now, he's making waves in training camp.
Most of his spring work was with backup quarterback Jordan Love, so the important thing in camp is developing chemistry with Aaron Rodgers. If what the quarterback had to say about Doubs is any indication, that mission has been accomplished.
"Every single day, there's been at least one 'wow' play from him. That's kind of rare for a young guy like that," the reigning MVP said, per Ryan Wood of the Green Bay Press-Gazette. "Now we've had some guys over the years do that, but they're all in the top 10 in Packers receiving history."
That's huge praise from a passer who has worked with some great receivers, including Davante Adams.
The clip that has circulated of Doubs running by Eric Stokes, who ran a 4.25-second 40 at his pro day in 2021, is certainly among the big plays Rodgers is talking about. Doubs' ability to run by a defensive back with elite speed, track the ball and catch it over his shoulder is the kind of thing that will continue to get him noticed.
When considering what the pecking order among Green Bay receivers may look like, underestimate Doubs at your own risk.
CB Sauce Gardner, New York Jets
The New York Jets are going to lean heavily on their trio of first-round picks to make an impact in 2022. At least in the case of Sauce Gardner, the early signs point to him living up to the hype as a rookie.
The No. 4 pick has reportedly been lighting it up in training camp, locking down receivers and making several plays on the ball. Andy Vasquez of NJ.com noted Gardner's performance in a drill going against the No. 1 offense in which he forced a crucial incompletion and registered a pressure as a blitzer.
More importantly, Gardner has impressed his teammates. He's a common topic among those speaking to the media.
Veteran teammate D.J. Reed has complimented Gardner's drive and work ethic to be the best. Garrett Wilson—one of the Jets' other first-round picks—told the media "you gotta really have a plan" when going against the corner.
As a top-five pick, the expectations are going to be high for Gardner. He famously did not allow a touchdown in three seasons as a corner in college, per PFF.
If his play in the preseason is any indication, he should be an elite cover corner from the outset of his career.
OG Zion Johnson, Los Angeles Chargers
The Chargers struck gold when they drafted Rashawn Slater with the 13th selection of the 2021 NFL draft. The left tackle ended up earning All-Pro second team honors in his rookie season and figures to be Justin Herbert's personal protector for the foreseeable future.
They just might have hit another home run with their first-round pick this year.