Heavy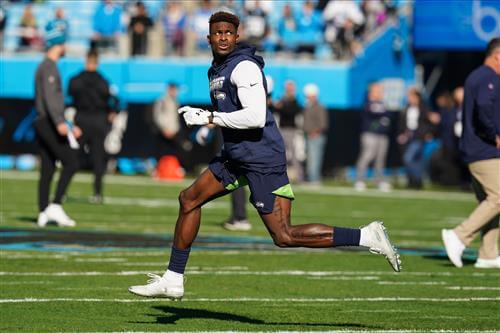 An elite wide receiver is still conspicuous by his absence from the Baltimore Ravens' roster. The team was unable to find one during the 2022 NFL draft and will be reluctant to overpay in the free-agent market.
One possible solution would be a trade to acquire a proven pass-catcher. There could be trade possibilities if the Ravens inquire about the availability of two playmakers plying their respective trades in the NFC West.
While the Ravens are lacking big-time talent at the position, the Seattle Seahawks are blessed with two 1,000-yard wide receivers. Both have been the subject of trade rumors this offseason, but one writer has chosen the ideal target for the Ravens.
All-Pro Makes Sense as Trade Option for Seahawks, Ravens
There aren't many teams around the league who wouldn't welcome DK Metcalf with open arms. The 2020 Pro-Bowler is a physical target at 6'4″, 235 pounds. He's also prolific, having caught 12 touchdowns in 2021.
Yet for all his brilliance, Metcalf isn't the Seahawks' wideout the Ravens should go after. Not according to Bleacher Report's Alex Ballentine, who believes a deal for Tyler Lockett makes more sense for all parties.
Specifically, Ballentine thinks the Seahawks "getting rid of a cornerstone player in his prime doesn't make sense. Dealing a wide receiver who is entering his age-30 season after spending most of his career on winning teams actually makes more sense."
Parting company with Lockett would make signing Metcalf to a long-term deal an easier prospect, per Ballentine: "As the Seahawks look to the future and try to free up future cash to pay Metcalf, it's worth seeing if they can trade Lockett. By doing so, they would save $9.7 million against the cap in 2023 while spreading out his guaranteed money over the next four years, per Over the Cap."
There's a lot to like about this idea, particularly getting a productive veteran to catch passes from Lamar Jackson. The quarterback is currently set to enter this season preparing to throw to an inexperienced group of receivers.