NBA Analysis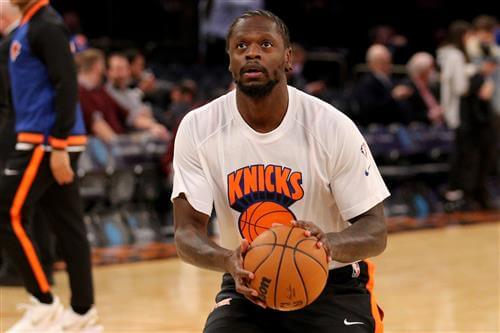 The New York Knicks are bad. They were solid last year, earning the fourth seed in the Eastern Conference, but it seems as though things are back to normal this season. Unfortunately for the Big Apple, that one successful year might have been a flash in the pan.
Now, they're certainly better than they have been in years past, but they're still below .500. And a big part of that has been the regression of Julius Randle. Their offseason signings haven't panned out how they may have hoped, but Randle's struggles have been a major factor.
Last season, Randle was an All-Star and earned All-NBA Second Team honors. He was absolutely phenomenal. However, his shooting splits are way down. Last year, Randle took and made a ton of tough shots. This season, he's just not converting on those looks.
Things have gotten so bad that Randle even got booed by fans at Madison Square Garden. He proceeded to shoot them a quick thumbs down, leading to some interesting postgame comments.
Randle said it was out of love, frustration, and the desire to be better, but it was an ugly interaction nonetheless.
The Knicks just signed Randle to a hefty extension this offseason, so it's a bit too early to talk about trading him. But if they did decide to move on from him, there's one team on the other side of the country that could be interested. Enter the Minnesota Timberwolves.
Minnesota Timberwolves Receive: F Julius Randle, G Kemba Walker
New York Knicks Receive: G D'Angelo Russell, F Josh Okogie, 2024 First-Round Pick
An interesting trade for both sides, each team would get a new look with this deal. The New York Knicks would get the franchise point guard they've always wanted, while the Minnesota Timberwolves would get a power forward to pair alongside Karl-Anthony Towns.
Despite his shooting struggles, Julius Randle is still putting up decent numbers this year. He's averaging 18.8 points, 10.0 rebounds, and 5.1 assists while shooting 41.1 percent from the field and 30.8 percent from three-point range.
D'Angelo Russell is playing pretty well for Minnesota this year, but like Randle, his shooting splits aren't amazing. The former Buckeye is putting up 18.9 points, 3.6 rebounds, and 7.0 assists while shooting 40.8 percent from the field and 35.4 percent from deep.