Bleacher Report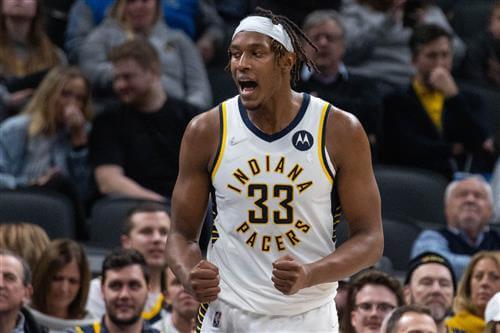 Less than a month away from the 2022 NBA trade deadline, we've already felt a few transactional tremors.
On Wednesday, Bryn Forbes headlined a three-team deal that landed him with the Denver Nuggets, where his three-point shooting should help stabilize a backcourt short on stretch. Before that, the Atlanta Hawks and New York Knicks swapped young wings (with pick considerations attached), exchanging Cam Reddish for Kevin Knox II.
Consider those foreshocks for the bigger earth-shakers ahead.
No offense to the Hawks, Knicks, Nuggets or any other members of the sub-contender class, but it isn't really trade season until teams with a real shot at a ring start dealing.
We have some fanciful suggestions on that front.
The Sixers Take a Volume Approach
Philadelphia 76ers Receive: Buddy Hield, Harrison Barnes and Tyrese Haliburton
Sacramento Kings Receive: Ben Simmons, Georges Niang and Paul Reed
The Sixers don't get their desired All-Star or heap of first-round picks here, but who knows whether the sky-high asking price for Simmons was anything more than posturing? You could forgive Philly for taking it down to the wire before softening its stance. Maybe that's been the plan all along.
What the Sixers do get here are substantial upgrades in depth, defense, shooting and playmaking.
You can count the number of snipers more dangerous than Hield. He's made more threes than anyone but Stephen Curry and James Harden since entering the league in 2016-17. Double-teams are a must when covering Joel Embiid, and no available upgrade would punish them more than Hield.
Barnes cannot legally be described without the term "solid," and he'd be an upgrade over Tobias Harris on defense, freeing the Sixers up to try to move their costly incumbent forward in a separate deal. Barnes is also drilling 41.9 percent of his threes this season and has bumped his career mark up to 38.0 percent. Both figures—season and career—are better than Harris'.
Haliburton doesn't have superstar upside, but he's a savvy two-way weapon who can disrupt plays off the ball on defense, drain threes (41.7 percent for his career), keep the rock moving and run a slick pick-and-roll with a big man. Just ask Richaun Holmes how nice it is to get spoon-fed by the 21-year-old combo guard every night.
Simmons is the obvious prize for the Kings, who should probably be in "get a superstar, figure out the rest later" mode if they're serious about ending their playoff drought.
While a non-star return for Simmons might feel disappointing for the Sixers, they'd be getting three starting-caliber pieces who can shoot for someone who hasn't played a second this season, plus salary-fillers in Niang and Reed. Rolling lately behind MVP-worthy work from Embiid and a hot week away from climbing atop the East, this might be all it would take to make the Sixers favorites to represent their conference in the Finals.
Golden State Cashes In a Blue Chip
Golden State Warriors Receive: Myles Turner
Indiana Pacers Receive: James Wiseman, Moses Moody and Nemanja Bjelica
The only way the Warriors can build a sustainable contender while constrained by the massive salaries of Stephen Curry, Klay Thompson, Andrew Wiggins and Draymond Green is to hit big on draftees and minimum signings. So while adding Turner would improve the Dubs' title odds this season, health permitting, it might not position them optimally for the next three years.
Trusting Wiseman and Moody will develop into quality starters is the safer play over a longer timeline.
This exercise is about the immediate future, though, and there's no disputing that Turner would give Golden State more in 2021-22 than Wiseman, Moody and Bjelica. Turner being under contract at $18 million for 2022-23 is a nice bonus as well, possibly giving the Warriors a two-year window as title faves.