NBA Analysis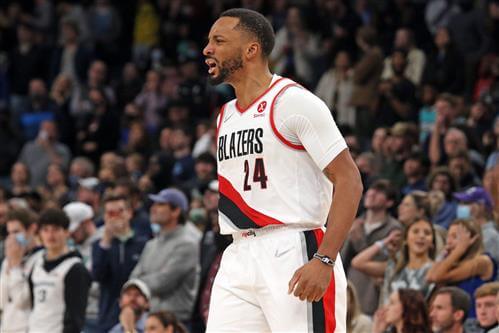 While they have made the playoffs for eight consecutive seasons, the longest active streak in the NBA, the Portland Trail Blazers are starting to see their fortunes run out. All streaks come to an end at some point and for the Trail Blazers, everything seems to be crashing down in front of them this season.
Currently 16-25 and the 10-seed in the Western Conference, the Blazers have not looked like a playoff team whatsoever this season and are going to have a tough time digging themselves out of this hole with both Damian Lillard and CJ McCollum sidelined.
Lillard recently underwent surgery to address a lingering abdominal injury, so he is out indefinitely, and McCollum has been sidelined since early-December with a collapsed lung. Anfernee Simons has been a bright spot in Portland's backcourt, but overall, this team is heading towards a rebuild with the trade deadline being less than a month away.
The Western Conference is weaker than usual this season and maybe the Trail Blazers can lock-up a spot in the play-in tournament when CJ McCollum returns to the court, but the best thing this team could do right now is begin "selling" away talent to try and gain more future assets.
Both Robert Covington and Jusuf Nurkic are prime trade candidates given that they are in the final year of their respective contracts, but Norman Powell is also an interesting name to keep an eye on.
After signing a five-year, $90M deal with the Trail Blazers in the offseason, Portland is expected to entertain offers for him at the trade deadline this season. The team is not actively trying to pursue a trade involving Norman Powell, but they are open to hearing what teams would be willing to offer for him.
At the trade deadline last season, Powell drew plenty of interest and was ultimately shipped to Portland. The same level of interest may not be present anymore since he is now on a long-term, high-paying contract, but some teams could still have interest in the 28-year-old wing.
In the offseason, the New Orleans Pelicans were rumored to have a level of interest in signing Norman Powell, so could they possibly be a team that looks to trade for him within the next few weeks?
The Pelicans have struggled this season and are currently on the outside of the playoff picture looking in, but they are just a half a game back from the Portland Trail Blazers for the 10-seed and could possibly sneak into the play-in range.
New Orleans does not seem ready to give up on their season just yet and could actually surprise many by being "buyers" at the trade deadline instead of "sellers".
Portland Trail Blazers Receive: G Tomas Satoransky, C Jaxson Hayes, UTA 2022 2nd Round Pick (via NOP), CLE 2022 2nd Round Pick (via NOP), LAL 2023 1st Round Pick (Swap, More Favorable to POR)
New Orleans Pelicans Receive: G/F Norman Powell, G Tony Snell
The Pelicans started off the season 8-21 and things looked awful for them moving forward, but New Orleans has turned things around in recent weeks by winning 8 of their last 13 games.
Brandon Ingram and Jonas Valanciunas have been the two key contributors for this team, but with Zion Williamson being out, the Pelicans are still missing a chunk of offensive production.
At this point, finding ways to continue improving and pleasing both Ingram and Williamson moving forward is key, which is why the Pelicans' front-office could be highly interested in adding a talented wing like Norman Powell.
Since the start of the 2019-20 season, Powell has averaged 17.7 points, 3.2 rebounds and has shot 40.5% from three-point range, making him a key secondary scorer for virtually any team in this league.