Sportsnaut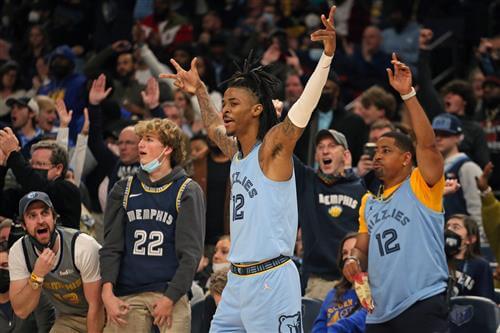 The Memphis Grizzlies have taken the next step this season. At 29-14, they're the fourth seed in the Western Conference, firing on all cylinders and improving as the season progresses.
Once a mere promising rebuild with compelling players, this is a Grizzlies team with all the tools to go on a deep playoff run. Heck, they can only get better. On Tuesday night, they pulled off an impressive victory against the Golden State Warriors. This team is cruising.
Here are three reasons why the Grizzlies are legitimate NBA contenders.
Memphis Grizzlies have a star in Ja Morant
If you want to go on a deep playoff run, let alone win an NBA championship, you need a star player. The Grizzlies have that in Morant, and one could even argue that they have one of the three best point guards in the game.
In his rookie year, Morant was a talented player who showcased star potential. In the ensuing season, he took more command, helping the Grizzlies attain a winning record and a playoff berth. This season, he has become an elite player.
Morant is as explosive as they come on the offensive end. His raw speed and quickness make it easy for him to get past defenders off the dribble and sky above the rim. He gets buckets in isolation, is adept at finding his teammates in the halfcourt and hits the boards at a high level for a guard. Morant has also become a more efficient shooter.
He's getting buckets in crunch time and leading the way for head coach Taylor Jenkins' rotation. Morant is a third-year player who has already become a premier scorer and floor general.
There are few, if any players the Grizzlies would theoretically trade Morant for.