NBA Analysis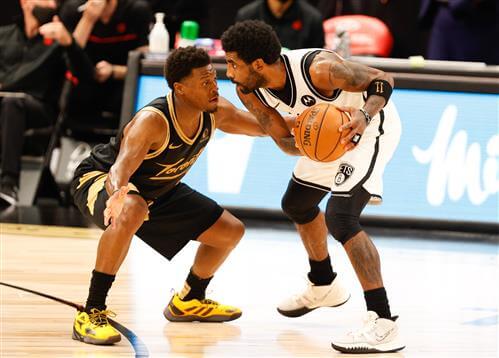 The Brooklyn Nets are going to begin the 2021-22 NBA season without their starting point guard, Kyrie Irving. While recent reporting has suggested the team will allow him to return as a 'part-time player' after recent struggles with COVID-19 and injuries, it remains to be seen if that solution will remain.
Irving has decided to not get the COVID-19 vaccination and ultimately landed in the health & safety protocols immediately upon testing to attempt his return to the lineup for road games.
New York has a mandate in place that requires vaccination to take part in indoor events. Given the recent surge due to Omicron, it appears high unlikely that a change to the policy will occur.
Games at the Barclays Center and Madison Square Garden fall under that mandate, meaning Irving is not allowed to play in 43 regular-season games and any subsequent playoff games until he is vaccinated.
There are long-term implications to the overall situation for Irving to take into consideration. He's received his game check for all of the road games but has not been paid for the home games that he has "chosen" to miss. The Nets also took a $186 million extension off the table as well.
With his future uncertain in Brooklyn, the Nets are now open to listening to trade offers for him. Earlier in the season, ESPN's Zach Lowe reported there are a few teams to watch as potential landing spots—one of them being the Miami Heat.
Let's take a look at a hypothetical NBA trade scenario featuring Kyrie Irving—sending him from the Brooklyn Nets to the Miami Heat.
Miami Heat Receive: G Kyrie Irving, 2025 Second Round Pick (via MIA)
Brooklyn Nets Receive: G Kyle Lowry, F PJ Tucker, 2025 First-Round Pick, 2028 Second Round Pick
The focus of this NBA trade scenario would be Kyrie Irving and his ability to return to action once again as a full-time player. The Miami Heat does not face local mandate issues but Irving would still be unable to travel to Toronto to play the Raptors if those matchups were to be.
The Brooklyn Nets would land a point guard with championship pedigree in Kyle Lowry to replace Irving. He would bring a hard-nosed defensive edge that Irving does not offer while already being used to playing alongside ball dominant talents.
Lowry also is more reliable off-court since he is going to show up day in, day out to play for his team. Granted, he has dealt with injuries at times, but that's been the case for Irving, too.