Bleacher Report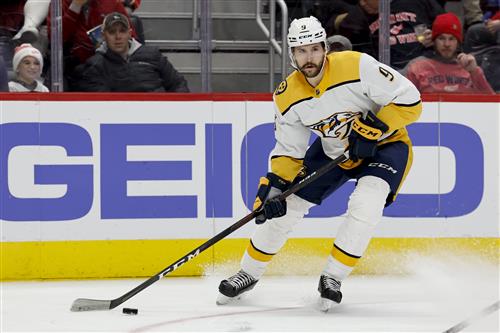 Next year's NHL free-agent market opens at noon ET on July 13, 2022. As 2021 draws to a close, it's a good time to evaluate the best players slated to become unrestricted free agents next summer.
The UFA class of 2022 contains several well-known stars. Teams in the market for first-line talent and leadership will closely follow Boston Bruins center Patrice Bergeron and Philadelphia Flyers forward Claude Giroux. The Dallas Stars' John Klingberg will be enticing to clubs seeking an elite puck-moving defenseman, while those looking for a starting goalie could covet the Chicago Blackhawks' Marc-Andre Fleury.
Who will be the best in the next free-agent talent pool will depend not just on previous accomplishments but also on performance during this season. Based on what we've seen thus far, here's our way-too-early ranking of the top 10 pending NHL UFAs for 2022.
Do you agree or disagree with our assessments? Should a player have ranked higher or lower on this list in your estimation? Let us know by posting your comments below.   
Honorable Mentions
Andre Burakovsky, Colorado Avalanche: Following two straight 40-plus point performances during shortened seasons, Burakovsky has 12 goals and 21 points in 25 games in 2021-22. He's well on his way to reaching 50 points for the first time, which will boost his free-agent value.
Phil Kessel, Arizona Coyotes: No longer an elite scorer, the 34-year-old Kessel's Stanley Cup experience could be enticing to contenders on a short-term deal. He has 17 points in 29 games with the low-scoring Coyotes this season.
Darcy Kuemper, Colorado Avalanche: The 31-year-old goaltender has had some difficulty adjusting to the Avalanche after three-plus seasons with the Coyotes. He has recorded 13 wins and five losses with a 2.77 goals-against average and a .907 save percentage.
Kris Letang, Pittsburgh Penguins: Letang, 34, remains the linchpin of the Penguins defensive corps. He's logging a team-leading 25:51 of time on ice per game and sits third in points with 20.
Hampus Lindholm, Anaheim Ducks: A big-minute defenseman, Lindholm has 13 points and a team-best plus-minus of plus-eight. The 6'4", 216-pounder's combination of size and all-around skill will make him an attractive target in the free-agent market.
Ondrej Palat, Tampa Bay Lightning: A solid two-way winger, Palat was part of the core that brought back-to-back Stanley Cups to the Tampa Bay Lightning. His all-around skills will garner considerable interest from contenders if he tests next summer's market.
Joe Pavelski, Dallas Stars: Pavelski is 37, but he remains an effective top-six forward. He's the Stars' leading scorer with 27 points in 29 games. At that level of production, he could exceed 60 points for the ninth time in his 16-season career.
Ryan Strome, New York Rangers: Strome, 28, has solid chemistry with high-scoring Rangers linemate Artemi Panarin. The versatile forward can play center or wing and has 21 points in 26 games this season.
10. Filip Forsberg, Nashville Predators
A gifted two-way forward, Filip Forsberg has been the Nashville Predators' most consistent scorer since his breakout 63-point performance in 2014-15. He's reached or exceeded 21 goals and 48 points six times, leading the Predators in total goals (190) during that period. The 27-year-old winger is also tied with team captain Roman Josi for most points with 401.
Now that Forsberg is in the final season of a six-year contract worth an annual cap hit of $6 million, his future with the Predators is uncertain. Once thought to be in a rebuilding mode, the Predators have exceeded expectations by jockeying for first place in the tightly packed upper echelon of the Western Conference. However, re-signing him could prove to be expensive for the Predators.
Forsberg could see $8 million per season on a long-term contract. Despite being hampered by injuries since 2017-18, he should draw attention from contenders if he and Nashville fail to reach an agreement on a new deal.
9. Nazem Kadri, Colorado Avalanche
In the final season of his six-year contract, Nazem Kadri is on pace for what could be a career-best season. The 31-year-old center leads the Colorado Avalanche with 38 points in 24 games. Sitting fourth among NHL scorers, Kadri could reach 100 points for the first time.
His production could slow down as the season progresses, but his performance thus far could elevate his stock in next summer's free-agent market. He's already exceeded 40 points six times in his previous 12 NHL campaigns and would've done so in the previous two if not for COVID-19 derailing one season and shortening another.
The only downside is Kadri has a short fuse that has gotten the better of him in playoff action, resulting in three suspensions in the last four postseasons. Still, he shouldn't have much difficulty landing a lucrative raise well above his current $4.5 million annual cap hit.