NBA Analysis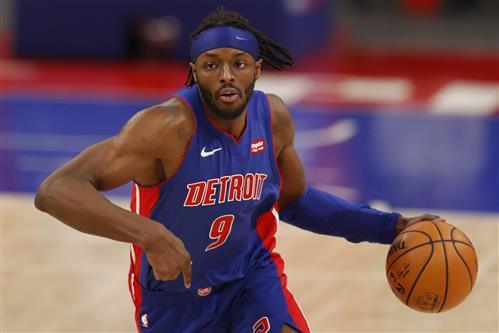 We are now nearing the holiday season and while it may be a different year soon, the Philadelphia 76ers will still be dealing with the same Ben Simmons drama this NBA season! The Sixers have yet to make a decision on what the future holds for their 3x All-Star and there still does not seem to be an end in sight after it seemed like they may trade him this past offseason. 
Philadelphia has remained adamant on the fact that they want a championship-level/All-Star talent in return for Simmons in any trade proposal coming their way, but so far, no team has been willing to offer up this kind of value for him. 
The 76ers are willing to wait this out as long as it takes, but recent reports suggest that Jerami Grant could be a possible target of theirs. Sixers' reporter Keith Pompey of The Philadelphia Inquirer has cited the Pistons and Nets being two possible trade destinations for Ben Simmons with Jerami Grant and James Harden being two primary trade targets of the Philadelphia 76ers.
Jerami Grant played in Philadelphia the first two years of his career and has since turned himself into a very reliable two-way threat at both forward positions. Coming off a year in which he averaged 22.3 points, 4.6 rebounds, 2.8 assists and shot 42.9% from the floor, Grant is definitely the kind of player that could make an immediate impact for Philly. 
However, the Pistons have shown no signs of wanting to relinquish their veteran leader. Grant has been very open-minded with the Pistons since joining them ahead of the 2020-21 season and they still very much believe that he can continue being the leader of this young, growing core in Detroit. 
Even if the Philadelphia 76ers are willing to trade Ben Simmons to the Detroit Pistons for Jerami Grant, is this something Detroit would even be interested in given that they have Cade Cunningham as their young, "do-it-all" point guard? 
Philadelphia 76ers Receive: F Jerami Grant, G Cory Joseph, DET 2023 1st Round Pick (Top-10 Protected), LAC 2023 2nd Round Pick, LAC 2025 2nd Round Pick
Detroit Pistons Receive: G/F Ben Simmons, G Isaiah Joe
Los Angeles Clippers Receive: F Josh Jackson
Seeing as the Detroit Pistons are $11.4M under the tax line for this season and would be flirting with going over by acquiring Ben Simmons, they would need to find some ways to cut an extra $10M in salaries from their roster in addition to Jerami Grant's $20M contract for this year. 
Cory Joseph and Josh Jackson are definitely two prime candidates to be on the move, especially since they do not present much of a long-term future in Detroit. After being waived in the offseason to save money, the Pistons opted to re-sign Cory Joseph to a two-year, $10M deal that includes a player option for the 2022-23 season. 
Joseph is ineligible to be traded until the December 15 deadline for recently signed players, but it would not be surprising to see the Detroit Pistons look to trade him since they have Cade Cunningham and Killian Hayes running things in the backcourt.