Fadeaway World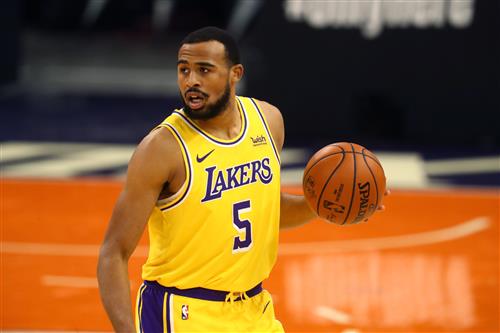 Talen Horton-Tucker has been one of the revelations for the Los Angeles Lakers this season. Horton-Tucker is a solid defensive guard who can also shoot it from deep (36.4% from 3PT range). Horton-Tucker has been a good addition to the current guards on the roster: but it seems like Horton-Tucker may have the potential to be more than just his limited role on the Lakers.
There have been rumors of multiple teams going after Horton-Tucker in free-agency. Sean Deveney reported on the situation. Having multiple teams wanting the young guard means that Los Angeles will have to spend more to keep their depth.
In the article by Sean Deveney, the Knicks, Mavericks, and Cavaliers are listed as possible destinations for the young guard. Out of all of these, it seems like the Cavaliers are the least likely: they already have a plethora of young guards, and Collin Sexton is an extremely promising scorer. Darius Garland seems like a solid shooter too so the fit of another guard on the roster would be questionable. If a team is acquiring Horton-Tucker, it's to take a chance on a younger player and give him good minutes.