NFL.com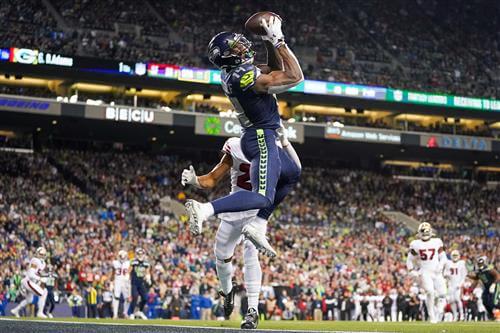 The 2020 NFL season has been a unique one, but what has long been common in this game is the excitement generated by the big play, and we've seen plenty from some of the league's finest in this campaign.
In fact, as my colleague Cynthia Frelund pointed out this week, teams are having success like never before when throwing deep.
So, which players have been the best at making these plays downfield through Week 5? Based on their performances this season — and this season alone — we're taking a look at the league's top deep threats. A few have made much of their hay in as little as one game, leading to some rankings on this list that might surprise you. So, scroll down to find the NFL's best downfield pass catchers so far this season because as we all know, nothing whets the football appetite quite like a long completion for a huge gain — and sometimes, a touchdown.
Rank
1
DK Metcalf
Seattle Seahawks · Year 2
If you've watched the Seahawks on a weekly or near-weekly basis, you know why he's here.
DK Metcalf has quickly transformed from a big-bodied receiver with uncertain potential into a big-play threat and Russell Wilson's favorite receiver. Look no further than the second-year veteran's role in Seattle's come-from-behind Week 5 win, in which Metcalf caught a crucial deep pass from Wilson on fourth-and-10 to keep the Seahawks alive and later made the game-winning touchdown grab on fourth-and-goal. The latter was from six yards out, but the former is the one that fits the topic of this article, and it's a perfect example of how Metcalf has blossomed in 2020.
With two Vikings defensive backs around him, Metcalf came down with the 39-yard catch that had a competition probability of just 31.3 percent. The pass covered 32.8 air yards, earning the Seahawks a fresh set of downs en route to an improbable victory.
Metcalf has been that type of weapon for Wilson all season, leading the league in receiving yards gained on deep targets (20-plus air yards) by a wide margin (his 296 yards lead the No. 2 receiver, Calvin Ridley, by 95 yards). He also tied for the NFL lead in deep receptions (seven) and deep-target touchdowns (three). Metcalf would own the lead in the latter category by himself had he not pulled up early on a long reception in Week 3 against Dallas, which resulted in a fumble and touchback.
That blunder aside, Metcalf has been magnificent for the 'Hawks as a deep threat who can also make an impact on shorter throws. He complements the smaller Tyler Lockett, balancing Seattle's receiving corps and helping Wilson to the best start of his career in what is shaping up to be an MVP-caliber campaign.
Rank
2
Michael Gallup
Dallas Cowboys · Year 3
Gallup leads the NFL in total go routes run with 71, and ranks third in the league in yards gained on deep receptions with 190 (on just nine total deep targets). Each of those 190 yards have been gained on go routes, with Gallup catching five of nine targets on such routes. Gallup has found the end zone on a deep target once this season, all while existing in a receiving corps that also includes Amari Cooper and rookie CeeDee Lamb, proving his ability to carve out a niche for himself among stellar teammates.
It's fair to wonder if this type of production will decrease now that Dak Prescott is out for the season, but Gallup's best play of 2020 came after Prescott departed Sunday's game with an ankle injury, when backup Andy Dalton lofted a perfectly placed pass to Gallup with the game's result hanging in the balance.