USA-NewNews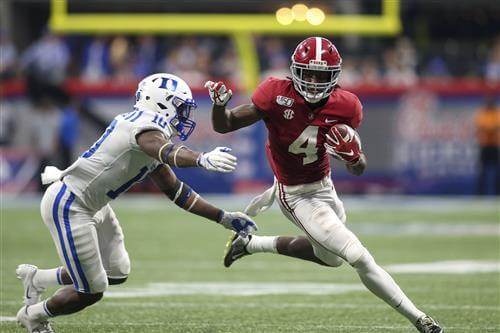 When the Raiders traded for Antonio Brown and signed Tyrell Williams last offseason, they were supposed to have one of the best wide receiver corps in the NFL. Unfortunately, Brown never played a game for the team and caused a lot of drama on his way out. Williams looked good at times, but an injury slowed down his production significantly.
Head coach Jon Gruden worked hard to make Brown the centerpiece of the offense, so when he was released, he left a massive void that the team didn't fill. Luckily, they may be able to snag a player cut from the same cloth in this year's draft. The three top wide receivers are Jerry Jeudy, Henry Ruggs and CeeDee Lamb. All three should make an instant impact no matter where they go, but there's one play who stands out. According to Vic Tafur of The Athletic, Jeudy is the crown jewel of this year's class and he compares very favorably to Antonio Brown:
While each has their strengths (Lamb with his high-point catches and magnet-like sense for the end zone, Ruggs with his explosive speed), Jeudy is the best of the bunch. Like Brown, Jeudy has great technique and route-running ability, with the ability to set up defensive backs and exploit them with his explosive movements and ability to make catches in tight spaces.
Jeudy is also the best fit for what the Raiders are looking far as Gruden reportedly looking for a "Z" receiver and that is exactly what the former Alabama star thrives at.
Analyst Called Jeudy 'Clone' of Antonio Brown
If you strip away all the drama he brings to the table, Antonio Brown is without a doubt one of the greatest wide receivers of this generation.