USA Today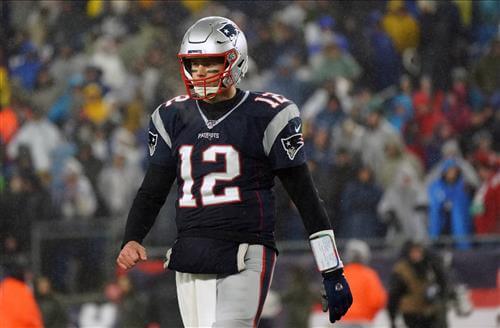 Time will eventually win out over Tom Brady. The growing question is how badly the New England Patriots quarterback is willing to lose. 
Anyone who has watched New England this season, or checked Brady's stats, knows the 42-year-old is a lesser version of himself. His completion rate, touchdowns, yardage per attempt and quarterback rating are way down, and the numbers have gotten worse as the season has gone on. His laser-like accuracy is off, evidenced by the passes that sailed over his receivers' heads or beyond their outstretched hands in Sunday night's loss vs. Houston, and he has struggled against pressure.
Yes, the Patriots are closing in on another AFC East title and a first-round bye. They might even wind up back in the Super Bowl. It's also true the entire offense has struggled, and the absence of Rob Gronkowski has been felt more deeply than expected. 
But the days of Brady being, well, Brady, conjuring victories out of nothing or single-handedly carrying the Patriots down the stretch, are no longer assured. That isn't likely to change, considering he'll turn 43 the month before the 2020 season starts. In fact, the decline will only accelerate, making it more and more obvious that his skills have deteriorated.
Which leads to an uncomfortable, if not awkward, decision for Brady and the Patriots this offseason.
On paper, Brady's contract runs through 2021. But according to multiple reports, it voids after this season and includes a provision that won't allow New England to franchise him. Given that he's said he wants to play until he's 45, he's going to have options.