NBA.com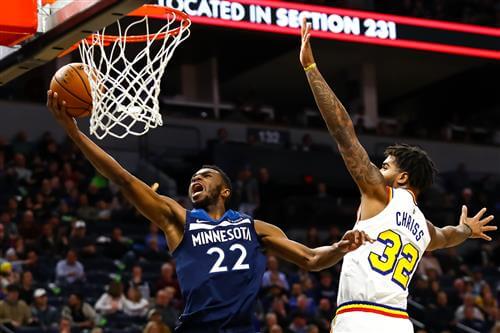 Wiggins had another big game on Friday. In an overtime win against the Golden State Warriors, the Canadian scored a team-high 40 points on 17-for-33 shooting from the field. He also dished out seven assists, setting a new season-high. Even more impressive is that Wiggins finished the game with 15 potential assists, meaning he made 15 passes that led directly to a shot for one of his teammates. The only players across the league who finished the night with more potential assists were Luka Doncic, LeBron James, Trae Young, Fred VanVleet and D'Angelo Russell.
With the Timberwolves trailing by four points with under two minutes to play in regulation, Wiggins runs a pick-and-roll with Karl-Anthony Towns on the left wing. Wiggins is among the league leaders in scoring as the ball handler in pick-and-rolls this season, while Towns has long been one of the league's best pick-and-roll bigs because of how effective he is on pops and rolls.
On the court with them are three perimeter players in Josh Okogie, Jake Layman and Robert Covington. Though Layman is the only one of them who is currently shooting at an average rate from the perimeter, teams have to respect each of them on the 3-point line – Covington far more than Okogie, but Okogie is at least a capable 3-point shooter.
Towns comes to set the screen on Wiggins, but rather than using the screen, Wiggins rejects it, probably because he notices Golden State's only rim protector, Willie Cauley-Stein, creeping closer and closer to the 3-point line.
That opens up a lane to the basket for Wiggins to attack.