MLB Trade Rumors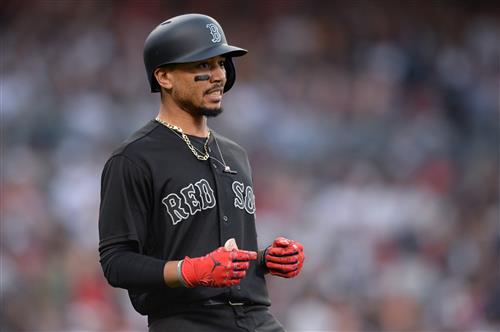 First of all, there's more than a decent chance that Mookie Betts will still be a member of the 2020 Red Sox.  As per Sox president/CEO Sam Kennedy, the team's intention to get payroll under the $208MM luxury tax threshold is a "goal but not a mandate," so it isn't as if the Red Sox are going into any sort of fire sale mode.  While it seems the club will trim some salaries, they could achieve a lot of those savings in other areas (i.e. other trades or non-tenders, or J.D. Martinez could opt out of his contract) before fully exploring the idea of trading the 2018 American League MVP.
This being said, it wouldn't be much fun if this post was titled "Looking To Pour Cold Water On A Fascinating Trade Possibility."  And, with Betts still firm in his intent to test the free agent market after the 2020 season, there's certainly a chance he will be wearing another uniform anyway on Opening Day 2021.  For a Red Sox organization that is looking for a creative way to shed salary and reload its minor league system, trading Betts before his final year of team control is an option that should at least be on the table, if certainly not one to be taken lightly.
Betts earned $10.5MM in 2018 after defeating the Red Sox in an arbitration case, and his epic MVP campaign saw his salary rise to $20MM in 2019.  After hitting .295/.391/.524 with 29 homers over 706 plate appearances last season, Betts is in line for another big raise in third and final trip through the arb process.  Matt Swartz will be publishing MLBTR's official arbitration projections within a few weeks, though he has informed me that Betts is currently projected to earn $27.7 or $27.8MM for the 2020 season (depending on whether Betts' base 2019 salary is increased by a bonus should he win a Gold Glove).
That number certainly looms large in any discussion of a Betts trade, given that several teams may balk at committing that much money to a single player (even a superstar like Betts) if they have luxury tax concerns of their own.  Plus, a team trading for Betts would have to be expecting to have him for one season at the most.  Betts has been so adamant in exploring free agency that it's very unlikely that he pulls a Paul Goldschmidt and signs an extension with a new team rather than finally get a crack at the open market.
With only one year of B