Bleacher Report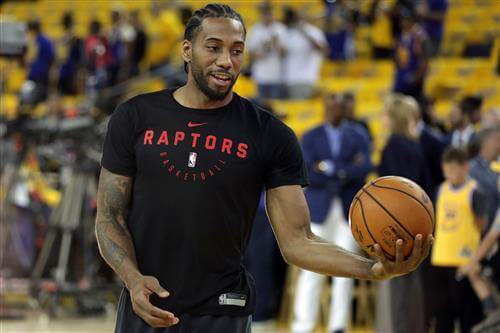 All is appropriately quiet on the Kawhi Leonard front as three teams—the Toronto Raptors, Los Angeles Lakers and Los Angeles Clippers—await word from the last superstar free agent on the market.
Contrary to popular belief, the waiting will not be the hardest part of this ordeal. The real pain will come after Leonard's decision, when two of those three teams, with hopes dashed, will be left to figure out their Leonard-free futures.
Raptors would still have that ring
Toronto hardly belongs in the conversation about which franchise will be in the most distress without Leonard. The Raptors are mere weeks removed from a title, having gotten as much from their year with Kawhi as anyone could have imagined. 
Sure, losing Leonard would remove the Raptors from serious title contention and turn 2019-20 into a stopgap year before Kyle Lowry, Marc Gasol and Serge Ibaka hit free agency next summer. But Toronto knew Leonard was likely a one-year rental. It did everything it could to sell him on life with the Raptors, winning a ring and being feted like royalty during a championship parade—one that ended up feeling like a coronation. If it wasn't enough, the Raptors can move on knowing they gave it everything they had.
And they certainly shouldn't be caught off guard.
Lakers wouldn't be a title favorite
If not the Raptors, many would argue the Lakers have the most to lose if Leonard spurns them.
Toronto would rank among the championship favorites with Leonard in tow, but the Lakers would almost certainly vault into a clear front-running position with him. Unlike the Raptors, though, L.A. wouldn't be in line for a rebuild without Leonard.
It would still have LeBron James and Anthony Davis, with the latter giving the Lakers a 26-year-old superstar around whom to build for the foreseeable future—assuming all the hassle of getting AD to Los Angeleswas for more than a short-term stay.
In a strange way, the Lakers' concerns will be similar with or without Leonard. They'll be thin depthwise and vulnerable to injury. They'll have a hard time filling out a roster, particularly with so many free agents already off the market. Leonard would reduce the severity of those issues, but he wouldn't eliminate them.
Bottom line: The Lakers could be historically great with Leonard, but they'll almost certainly be very good without him.     
Clippers would be stuck 
The Clippers are different.