Philly Voice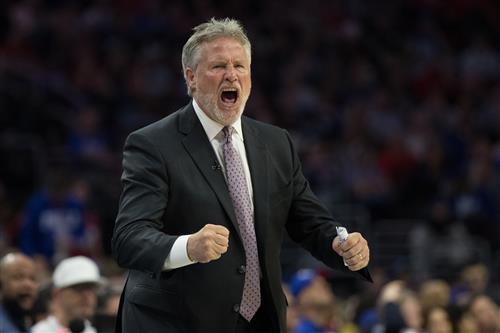 Brett Brown's job security has been a point of debate for most of the last two years, as the Sixers have completed the transformation from a team in the midst of a rebuild to a team with expectations to contend. And according to one prominent NBA reporter, there is a line in the sand drawn this season — NBA Finals or bust.
That's the word from Marc Stein of the New York Times, who believes it will be tough for Brown to survive if the Sixers do not emerge victorious in Game 7 on Sunday night.
Here's the relevant info from Stein's dispatch on Saturday morning:
The Sixers, meanwhile, will be swamped with what-next questions if they don't advance.
Beyond the uncertain fates of Butler, Harris and the sharpshooting J.J. Redick, rumblings in league coaching circles have grown louder by the day that 76ers Coach Brett Brown needs an N.B.A. finals berth to keep his job. Brown, I'm told, has little chance of surviving a second-round exit.
Before we go any further, PhillyVoice reached out to some people around the team on Saturday afternoon to talk about the report and situation. To a man, the message was clear — no one is focused on anything other than Game 7 on Sunday night, and any declarations about what they will or won't do in hypothetical scenarios are simply speculation. It is important to note that here before moving further.