ESPN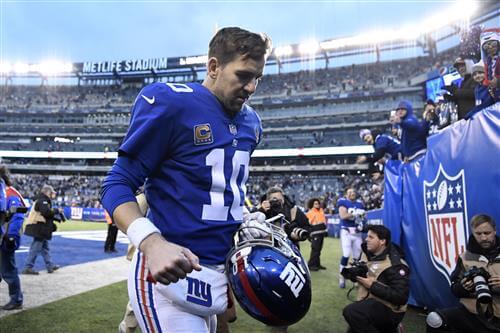 The New York Giants drafted a quarterback with the sixth overall pick in the NFL draft, and coach Pat Shurmur hasn't seen Eli Manning flinch.
"He's had no response," Shurmur said. "I will say this again: I've never been around a person that can stay in the moment better than Eli. And I think that is something that is really, really unique about him. He's staying in the moment."
The Giants selected Duke quarterback Daniel Jones with the first of their three first-round picks in the draft. Using such a high pick on that position instantly makes him their quarterback of the future, and the likely successor to Manning, who is 38 years old and on the final year of his contract.
The Giants called Manning, a two-time Super Bowl winner and generally considered the best quarterback in franchise history, as they were making the pick last Thursday night. They had talked to him throughout the pre-draft process about the possibility of taking a quarterback with one of their premium picks.
The generally unflappable Manning took it all in stride.
"He was fine. I told him, 'It's your job, let's go,'" general manager Dave Gettleman said after the first round of the draft.
Nothing seems to have changed nine days later. Manning was at work this week conducting business as usual. He's looking to bounce back from a rough couple of years where his play has dipped and the Giants have won just eight games combined.
This could be his last chance.