Philly.com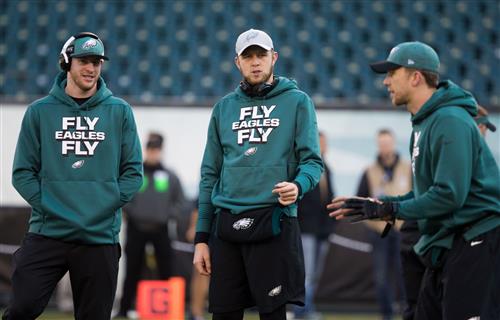 Carson Wentz has fought pain and time. He spent much of the past 14 months recovering from two injuries that halted his second and third NFL seasons. He watched Nick Foles lead the Eagles to the Super Bowl, then again lead them to the playoffs.
This has tested Wentz in a way that he couldn't have imagined when he first arrived in Philadelphia as the franchise's savior, and it has challenged his exacting personality in a way that left him conflicted while his team achieved such success without him. The Eagles are committed to Wentz as their franchise quarterback, but they need him to rebound after a year that challenged his health and mind.
"It hasn't been the easiest last year for me on the physical level, just battling the injuries, but then just personally going through it, sitting on the sideline and then playing and then sitting on the sideline again," Wentz said in a wide-ranging interview. "So I realize I maybe wasn't the greatest teammate at times because I was emotionally kind of all over the place. To the outside world, I probably didn't show it much. But internally, you're definitely fighting some sort of emotions. … So there's things to learn just about how to handle myself in certain situations."
How this could be interpreted has never been more relevant than in the past two weeks. Wentz finished eating breakfast with his wife on the morning of Jan. 21 and prepared for quiet time reading the Bible when he received a text message about a story that cast him as the problem with the Eagles' 2018 campaign, labeling Wentz as "selfish" and "uncompromising."
In his first public comments since that report, Wentz disputed specific examples that were cited by PhillyVoice.com and denied that he was the cause of friction on the team. However, Wentz did not refute certain characterizations from the story.
"I know who I am, first of all," Wentz said. "I know how I carry myself, I know I'm not perfect, I know I have flaws. So I'm not going to sit here and say it was inaccurate and completely made up, I'm not going to do that. But at the end of the day, I will say our locker room is really close.