The Score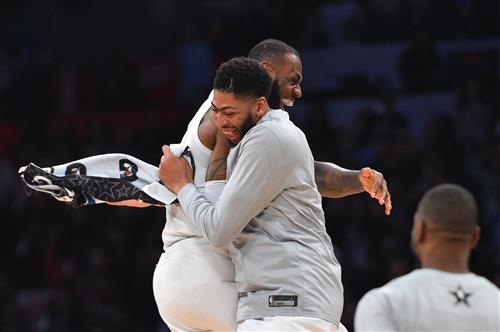 The Los Angeles Lakers have been waiting for the other shoe to drop ever since they signed LeBron James last summer.
The Anthony Davis sweepstakes are officially underway, and the Lakers are rumored to be in hot pursuit. It remains to be seen if the New Orleans Pelicans are interested in the Lakers' trade assets, or if Davis has insisted on a move to Los Angeles, but the framework of a potential deal is already being sketched out.
Pairing Davis with James would instantly turn the Lakers into title contenders. The closest comparable for James and Davis would be Magic Johnson and Kareem Abdul-Jabbar, the Showtime duo who won five championships.
The luxury of having a big like Davis is that he does everything at an elite level, and that would give the Lakers nearly infinite flexibility in terms of how they want to play.
James and Davis would be unguardable in the pick-and-roll because they would have a counter against every coverage. Defenses could try to duck under and protect the paint, but James has quietly developed into one of the league's best pull-up 3-point shooters. If the defense chased James off the line, it would become a two-on-one scenario where some helpless big is left to cover both James and Davis at the rim. Davis can also get an open jumper anytime he wants by popping to the perimeter.
Defenses might settle on switching against James and Davis to limit penetration, but that creates more problems. James can easily get his shot off against a center – or, better yet, he could dump it down to Davis in the post and let him work the mismatch against a wing player.