MLB.com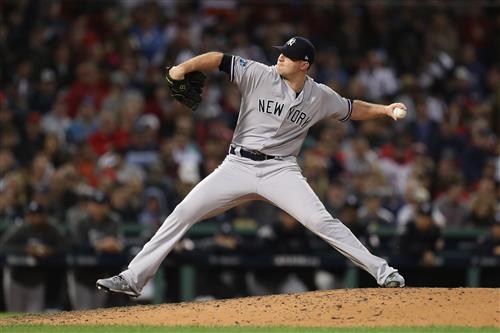 The robust relief-pitching market saw another name come off the board Saturday night as Zach Britton agreed to a deal to return to the Yankees.
For New York, Britton's return strengthens the club's already deep bullpen. But what will it mean for the rest of the free-agent relief market?
Britton became the latest reliever to cash in this offseason, the fifth to land a deal worth at least $23 million. The lefty agreed to three guaranteed years and $39 million, though his contract includes two interesting possibilities following the 2020 season.
First, the Yankees can lock in Britton for 2022 at $14 million, bringing the total money guaranteed to $53 million. If the club decides not to trigger that fourth year, Britton can then opt out to become a free agent, forgoing the $13 million guaranteed for 2021.
So while Britton will earn between $26 million and $53 million in the market's most recent deal, the biggest question in the relief market remains this: What will happen with Craig Kimbrel?
Kimbrel was reportedly seeking a six-year deal worth at least $100 million when the offseason began, though it appears abundantly clear that the seven-time All-Star will have to settle for less than that.
Then again, the terms of Kimbrel's next deal might be the least of his concerns.