Bleeding Green Nation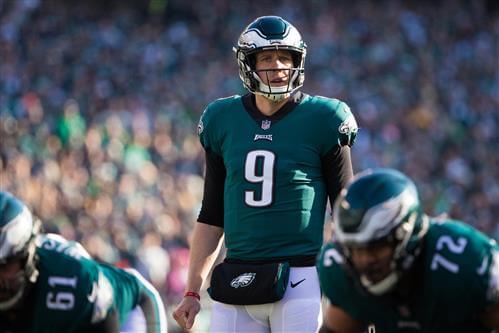 The Philadelphia Eagles are expected to move on from Nick Foles this offseason and they're also expected to have a strong market for the 2018 Super Bowl MVP's services, according to a report from NFL Network.
MIKE GARAFOLO: Nick Foles, last game as an Eagle today, Ian? You tell me what's up.
IAN RAPOPORT: I think Nick Foles will have something to say about that, but IF they lose — of course, Foles doesn't have a lot of experience losing in the playoffs — if they do, though, this is expected to be his last game [with] Philadelphia. Really, the discussion here is how they are actually going to do it. Do they franchise tag him — about $25 million — or do they pick up the [mutual] option and watch Foles buy back his freedom and then maybe franchise tag him? Either way, what remains to be seen is how the Eagles actually move on. And from what I understand, just talking to several general managers around the league, the belief is the Eagles will in fact be able to trade Nick Foles again. Remember, they did it once before [in 2015]. They also traded Sam Bradford for a first-round pick and more [in 2016]. Not expected to get as much this time, but make no mistake: Foles IS going to be the most coveted quarterback available in a year where there's not a lot of great free agent options, not a lot of options in the [2019 NFL] Draft. Once again, Philadelphia is going to be able to cash in big time on a quarterback they're moving on from.
MIKE GARAFOLO: This past offseason there were offers of a second-round pick coming their way, they said "No, that's not enough." They had Wentz coming back from the ACL, they also had Foles under contract for a much smaller [cap] number. So, different story this time, second-round pick might be good enough to get it done.
Rapoport first mentioned the possibility of tagging Foles and trading him last weekend. The new information here is that there's buzz about the Eagles being able to get a significant return should they decide to trade Foles.