Sporting News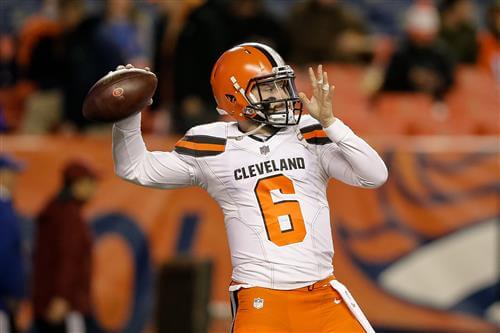 The revival of Cleveland football began with an expletive. Naturally.
With 1:23 to play in the second quarter of the Browns' Week 3 game against the Jets, Baker Mayfield, playing in place of a concussed Tyrod Taylor, approached the line of scrimmage for his first NFL play. A linebacker noticed the rookie quarterback's presence behind center and started yelling, reminding Mayfield that he was fresh meat and that this was the NFL, not the Big 12. The Jets were coming for the 23-year-old, or so he was told.
Mayfield stared back at the unnamed New York defender and calmly replied, "I don't even know who the f— you are."
A few seconds later, Mayfield connected with receiver Jarvis Landry for a 14-yard completion. A couple of hours after that, the Browns won a game for the first time in 635 days.
The story of Mayfield's first regular-season interaction with an NFL defense came from his offensive linemen. It eventually reached Browns senior media broadcaster Nathan Zegura, who told Sporting News.
"The offensive line came (back to) the sideline and was like, 'This is our guy,'" Zegura said.
The authenticity. The confidence. The swagger. The very attributes that moved the Browns to draft the Heisman Trophy winner out of Oklahoma with the No. 1 overall pick are infiltrating the entire organization. They're why the team will be a trendy pick to win its division in 2019, something that has not happened in Cleveland since the first year of the George H.W. Bush administration.
And they're why Mayfield is SN's easy choice for the face of 2019 in the NFL.