New York Post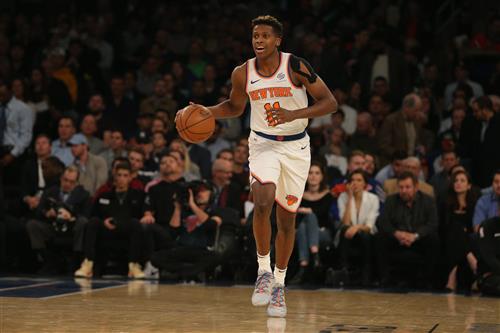 This has been a trying month for Frank Ntilikina, with his French hometown of Strasbourg making international headlines for all the wrong reasons.
Ntilikina's mother, Jacqueline, flew to New York earlier this week to be with her son and watch him play on Christmas Day at the Garden against the Bucks. The terrorist attack on Dec. 11 at the tourist enclave called the "Christmas Market" in his hometown had shaken him.
But in an odd maneuver, Knicks coach David Fizdale put a lump of coal into Ntilikina's Christmas stocking, as the Knicks' 2017 lottery pick received his season's fourth DNP.
Yes, Ntilikina was slumping, but the Knicks' two other point guards, Emmanuel Mudiay (5-of-14, five turnovers) and Trey Burke (1-of-7, 2 points), were playing erratically. And Fizdale had plenty of opportunity to get Ntilikina in the contest with the Knicks trailing by 14-plus points across the entire fourth quarter.
Just on Friday, team president Steve Mills, in his sitdown with Knicks writers, said the franchise has to "allow [Ntilikina's] confidence on the offensive end of the floor to sort of live within him all the time."
After the loss, Ntilikina dressed slowly and quietly in the Knicks' locker room and, for once, there were no French reporters to record his thoughts. Ntilikina, who received three DNPs earlier this month, spoke more softly — and somberly — than usual.